Check out the new super unique ink that January Jones got in honor of her son
January Jones's son Xander is getting so big — it's hard to believe, but he's already five! His fifth birthday happened earlier this month, and perhaps that's what inspired his Mom to get some new fresh ink to celebrate.
"Thank you @_dr_woo_ ❤️" she captioned the photo.
Dr. Woo, also known as Brian Woo, is a highly sought after tattoo artist in Hollywood. In fact, his wait list is approximately a year long. And rumor has it that January Jones added her Mom to the long list after finally getting hers done.
Jones liked her new tattoo so much, that she brought it up on Late Night with Seth Meyers on Wednesday night.
"It's my birthday and his inside," she explained. "So I'm protecting."
What a sweet Mom move! Of course, Xander has gotten some new tattoos himself — but his are just temporary.
"We do fake tattoos on him all the time," Jones said on the show, noting that Xander was proud that his Mom chose a design that would never wash off.
Jones definitely chose a pretty inspiring design. Plus, it's sweet that her design is so meaningful.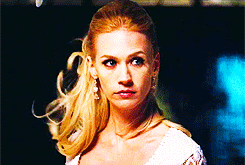 Want to see more of January Jones? You can catch her on The Last Man on Earth, which airs Sunday on FOX. As for Xander, you can just hope that Jones will post some more pictures of him on Instagram — preferably with his fake tattoos!