This steamy new Hulu show is told completely from the female characters' POV
Well, this is definitely something we're majorly looking forward to. There's a brand new Hulu show coming out this Spring, and it's a steamy feminist historical drama. Hulu's Harlots offers a "whore's eye view" of Georgian London, according to executive producer Alison Owen.
In other words, the story is told completely from the sex workers' POV.
Harlots is a fresh and feminist deep dive into the lives of 18th century sex workers in London. Samantha Morton plays Margaret Wells, a brothel madam who views prostitution as a way up for her family and her "girls." Downton Abbey's Jessica Brown Findlay plays her older daughter, Charlotte, a glamorous courtesan, and Eloise Smyth plays her virgin daughter Lucy. Things get stirred up with the family finds themselves intertwined in a turf war with a high class madam played by Lesley Manville.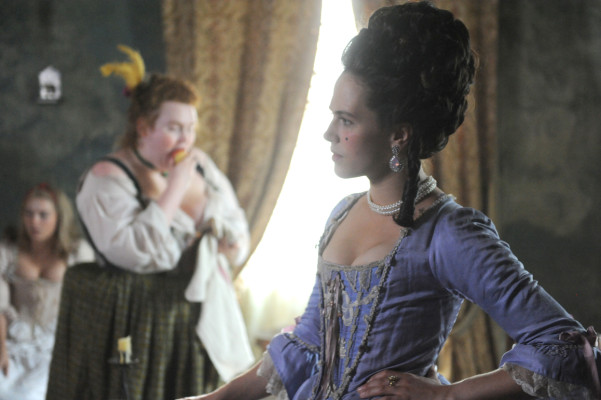 In addition to completely showing the perspective of the female characters, the producers are all women. Even more awesome, they've said they hope to only hire female directors.
"It was really important for us right from the beginning to make it all about the female gaze, Owen said at the Winter TCA 2017, according to Decider. "Prostitutes and brothels are not a new subject. They've been a familiar trope in media since time began…Our rule from the beginning was 'Everything from the whore's eye view.' Everything is looking out rather than looking in at these women.
The producers had no problem portraying the topic of sex workers on TV. As series co-creator Moira Buffini says, "it's a show about economics as much as it is about sex workers… The economics of this world are all-consuming."
Check out the first-look teaser of Harlots:
https://www.youtube.com/watch?v=mPrHv1nMZxc?feature=oembed
The eight-part drama will air on ITV Encore in the UK. Exclusive streaming in the US on Hulu starts March 29th.