The new Halloween just smashed so many feminist records in Hollywood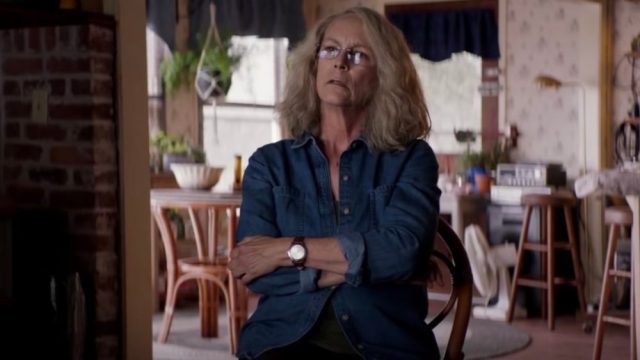 It's only been out for three days, but the new Halloween, starring the OG scream queen Jamie Lee Curtis, has already smashed box office records. Variety reports that during its opening weekend, the slasher flick brought in a whopping $77.5 million, making the 2018 "direct sequel" to the OG 1978 film the second-biggest release of the month (behind Venom). The film had the highest-grossing debut ever for a horror movie with a female lead, as well as the highest-grossing debut for a movie with a female lead over the age of 55.
"OK. I'm going for one BOAST post," Curtis wrote on Twitter on October 21st. "Biggest horror movie opening with a female lead. Biggest movie opening with a female lead over 55. Second biggest October movie opening ever. Biggest Halloween opening ever #womengettingthingsdone."
Halloween's success is a huge win for the horror industry (and women everywhere).
The sequel revolves around Laurie Strode (played by Curtis), who is now a grandmother. When famed serial killer Michael Myers—who tried to kill her when she was a teenager—escapes from captivity, Strode takes it upon herself to find and put an end to Myers for good.
The plot picks up 40 years after the 1978 film ends, and you'll absolutely get the gist even if you haven't seen any other films in the franchise.
https://www.youtube.com/watch?v=aMCLVSlk1Tk?feature=oembed
And Twitter is definitely taking note of the movie's feminist vibes.
Okay, we need to go buy our Halloween tickets now.