"New Girl" Season 7 will return sooner than you think — plus everything else we know
There has been a lot of confusion surrounding the upcoming, final season of New Girl. When Season 6 ended it wasn't clear if that was the final season or not. Even the producers weren't sure if the show was over, so they wrote a finale episode that could serve as the series finale if the show wasn't renewed. Since the Season 6 finale, the show's fate has been on a roller coaster. First it was renewed, then canceled, and finally renewed again, and now New Girl is coming back sooner than you think. The resurrection is thanks in part to Jake Johnson, who wrote to the network and asked that they give the show another shot.
"I was one of [the cast members] that wrote them and asked for more," Johnson told TVLine. "I said, 'I don't think you gave us enough time to finish the show the right way. And I would really appreciate — and I think the fans would appreciate — a final goodbye to these characters.'"
This is amazing news for fans, but the only bummer is that it will be the shortest season yet. Unlike past seasons which typically had 22 episodes, the upcoming final season will only feature eight episodes.
But the question we know you're all asking is: When does New Girl Season 7 return?
The short answer is: sometime in the spring — we wish we had a more concrete return date.  Zooey Deschanel recently shared a photo from the set, so we know that they are filming. Plus, Lamorne Morris tweeted that the seventh season is coming "soon."
How did Season 6 end?
When we last left the gang, Jess and Nick had finally rekindled their on-off relationship, Cece and Schmidt announced that they were having a baby, and Winston finally called up his estranged father.
What can we expect from Season 7?
Next season will pick up four years after last season's finale. Johnson, at least, is onboard with the time jump.
"I think it's cool to do a time jump," Johnson revealed. "I think we were running in circles a little bit, so I think jumping forward [is smart]. Everyone is a little further along [with their lives]."
TVline also reports that Dermot Mulroney will return to the series. He played one of Jess's exes and hasn't been on the show since Season 2. Speaking as a strict New Girl fan, we seriously hope Mulroney's reappearance does not ruin Jess and Nick's shot at a happy relationship.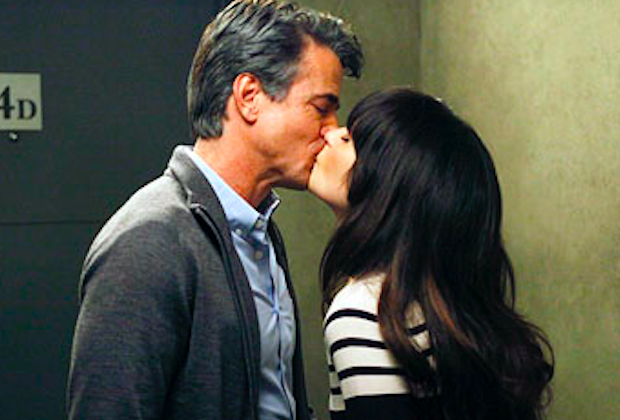 Deadline reports that there are likely to be "big milestones" for all the characters, including a big one in the season finale. Please let that be a Nick + Jess wedding, please!