Nick is finally going to [spoiler] in the season premiere of New Girl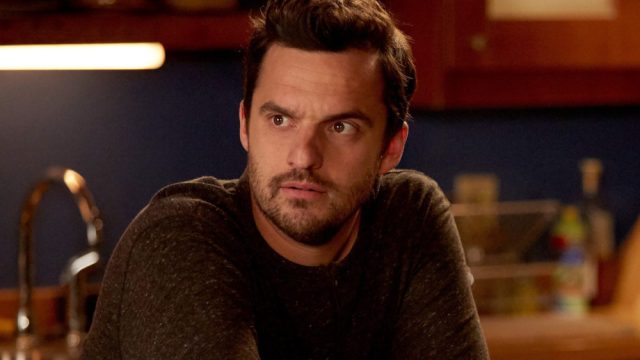 Knowing that Tuesday night, April 10th, will be the *last* first episode of a New Girl season ever is devastating. But knowing that we might actually see Nick taking his relationship with Jess to the next level softens the blow just a little. Yes, according to a new promo for New Girl's (final) season premiere, Nick has elaborate Nick-like plans to [SPOILER ALERT!] pop the question to Jess, and Jess' dad is NOT pleased with how long Nick's been taking to make this whole engagement official.
Basically, we're dreading the show coming to an end, but also cannot wait to find out what happens!
Bob is ticked off that Nick apparently asked for his blessing to propose to Jess six months earlier (we're hopping a few years in the future with this season, ICYMI), got it, and has yet to make any moves. When Bob asks Nick what the hold up is, Nick lays out his convoluted romantic scheme, and it involves a Turkish male au pair and mailing the ring from Europe.
https://www.youtube.com/watch?v=vCnTqEujvbo?feature=oembed
Bob pretty much speaks for all of us when he expresses concern that mailing a priceless family heirloom overseas may not be the smartest approach, but, we are talking about Nick Miller here, so we're also guessing it's going to wind up making for some entertaining antics with Jess and the gang.
For the past few months we've gotten quite a few tidbits about what to expect in the new/final season.
We know Schmidt and Cece have an actual BABY. We know Nick just got back from a book tour (which, we're guessing, is how he linked up with the aforementioned Turkish au pair). We know Jess maybe injured her finger and got a nose ring. We know that Winston and Aly were getting married. We know Ferguson the cat will be making a comeback. And that we almost got no Season 7 at all (Jake Johnson, we are forever grateful for your persuasion tactics!).
But we *did* get a seventh season! And we can't wait to watch it unfold. Especially if Nick pulls himself together enough to make Bob (and the rest of us) proud.