A New Girl favorite returned for the season premiere, and it looks like we haven't seen the last of him
Hey, you. YES, you. If you haven't watched New Girl's "About Three Years Later," 1) What are you waiting for?! And 2) Now might be a good time to turn around, because SPOILERS FOLLOW. And you don't want to be spoiled, do you? Of course you don't. Watched the episode, and ready to unpack? GREAT, let's dive right in…
After WAY too long away, New Girl finally returned with the premiere of its seventh and final season. And it caught us up on what Nick, Jess, Schmidt, Cece, Winston, and Aly are up to, in addition to bringing back a New Girl fav — Russell Shiller, as in Jess' "Fancyman" ex (Dermot Mulroney).
We knew Fancyman would be returning to New Girl, but the *exact circumstances* of his return where unknown, which made us kind of nervous, TBH, because we didn't want to see anyone (or anything) come between Nick and Jess after that very romantic Season 6 finale.
But, guess what? It looks like we won't have to worry about anything like that.
Here's the deal: Jess runs into Fancyman at the feminist birthday party (!!!) for Ruth, Schmidt and Cece's daughter, whose son is Ruth's classmate, and he's as cheeky as ever. He overhears Jess make a joke about how many kids he has, to which he responds, "50 from 100 different women, figure that one out."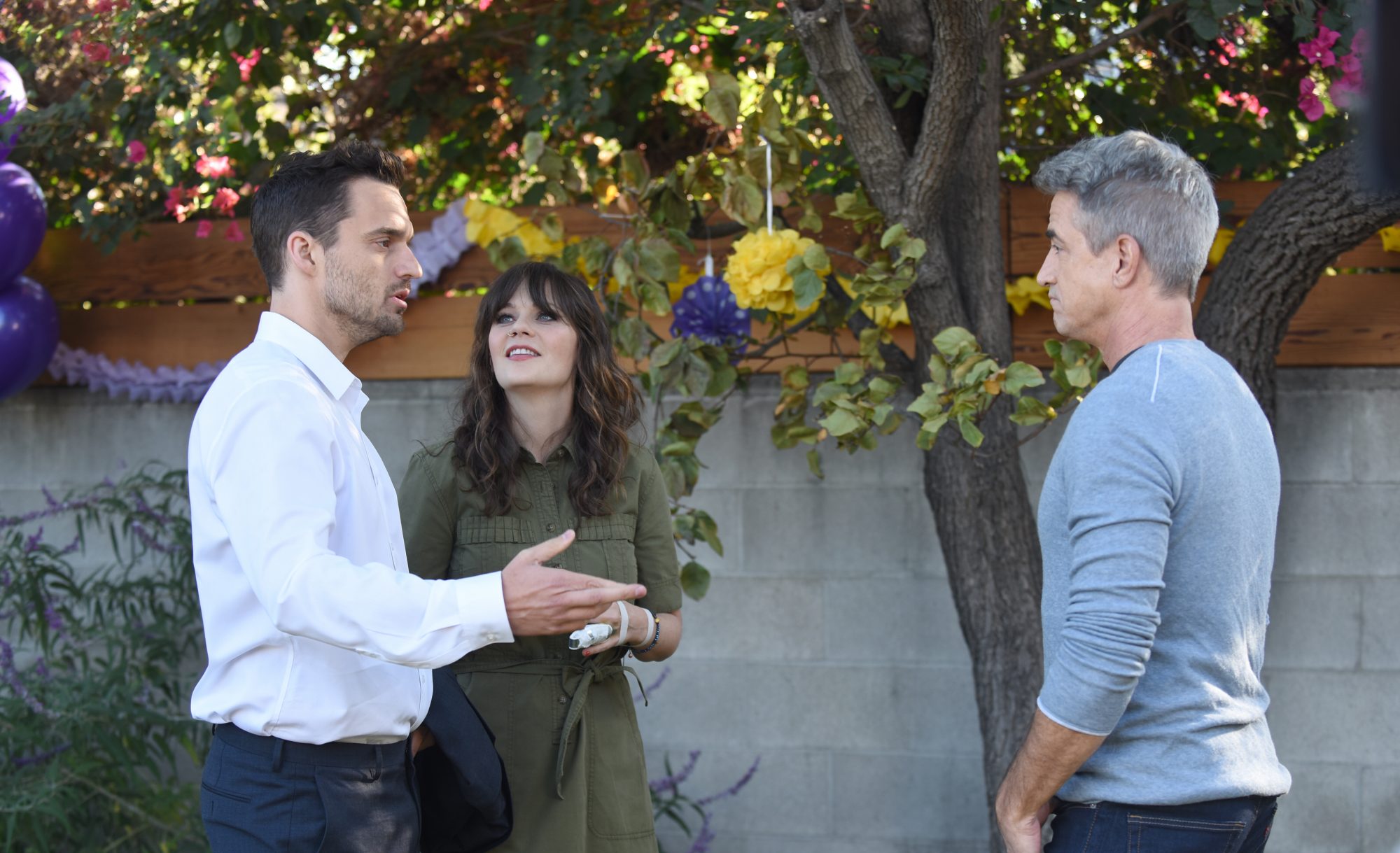 Our favorite new girl gets to telling her former flame what she's been up to: "Because of a pending justice department investigation, I can't tell you why I left Banyon Canyon, but I can tell you, European Jess is a lot more fun than state's witness Jess." To which he responds, "It sounds to me like you need a job. You should work for me."
The two sort of move past that, and end up talking about Nick and Jess' relationship (and Jess ends up lying about being engaged, which is a whole other story, but she does eventually come clean). But, the whole working together thing does come up again. In fact, Fancyman, who we last saw in Season 2, shows up to the loft to ask Jess to run his education-based non-profit.
We don't see Jess — who, BTW, had no idea what Russell does for a living until now — accept, and she tells Nick it would mean that she couldn't go on the South American portion of his book tour. But he says, "Who cares? You should take that job. It's a big opportunity." But knowing Jess' passion for education, it seems like a real possibility.
And if she does take it…it could mean a lot more Fancyman on New Girl. And we're here for more cheeky remarks — but, again for good measure, NO COMING BETWEEN NICK AND JESS.