Gaston is coming back to 'Once Upon a Time' and this is who's playing him
Gaston is back, Oncers! And, this time around, he'll be played by… Wes Brown!
During the first season of Once Upon A Time, Belle's haughty suitor was played by actor Sage Brocklebank (which is one of the greatest last names we've ever come across, BTW). Be that as it may, in typical OUAT fashion, he's been replaced – just like Regina's sweetheart Robin Hood (who was initially played by Tom Ellis and later played by Sean Maguire).
Now, back to Wes Brown. He's acted in shows such as True Blood, Hart of Dixie, Private Practice, and 90210. According to Variety, during the fifth season of Once Upon A Time – which will return at 8pm on Sunday, March 6th on ABC – he'll star in an (undetermined) episode in the second half of the season.
Before Belle (played by Emilie de Ravin) met her love Rumple (played by Robert Carlyle), Gaston was a part of her life. How so? Well, that's where Wes Brown will come in, allowing viewers to explore OUAT's twist on the classic Beauty and the Beast narrative.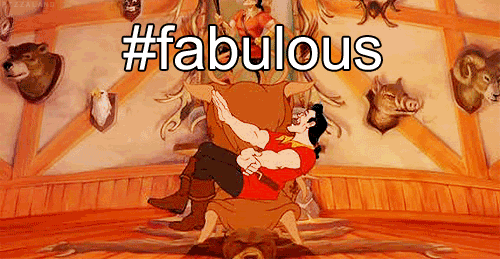 Most of all, we're highly interested to see how the popular TV show incorporates Gaston. And if they want to throw in a few surprises, all we have to say is: Be our guest! (Sorry – we couldn't resist!)
*begins to hum Gaston's song*
(Images via Walt Disney Pictures/Disney Wiki; ABC/Twitter; Walt Disney Pictures/Giphy)