The new "Frozen" ride at Disney World is open and has a 300 minute wait – GOOD LUCK!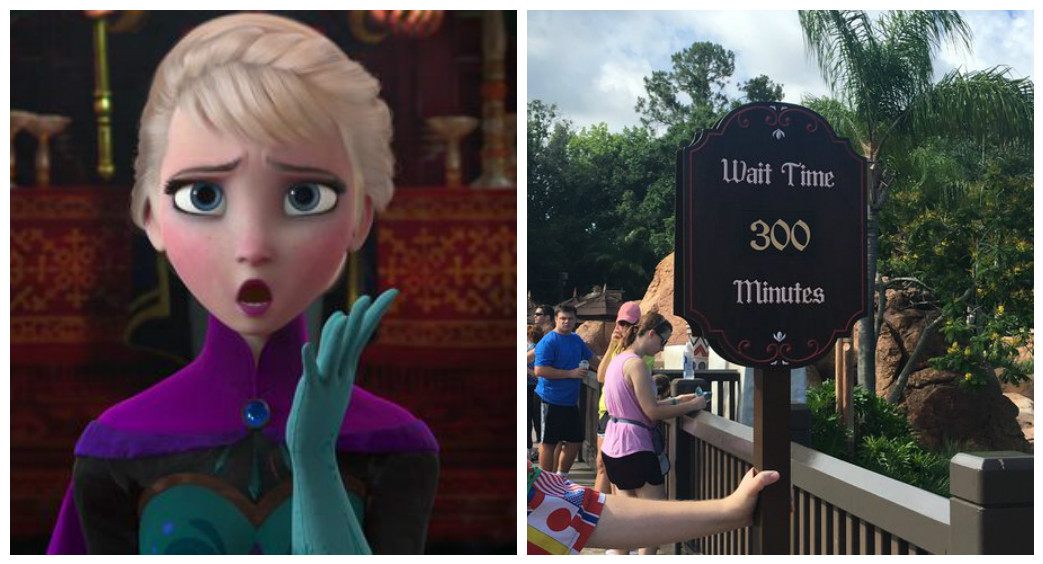 It's currently 88° degrees in Orlando, Florida, but things are about to get a little chilly, especially if you're headed the way of Arendelle. Earlier today, Walt Disney World unveiled their newest theme park attraction, Frozen Ever After, because no, we are never going to…let this movie go.
Also there's no way to come out of this post without "Let It Go" stuck in your head for the rest of the day.
The newest attraction is located in EPCOT's Norway Pavillon, replacing the long-standing Maelstrom ride (RIP, Maelstrom). Much of the set up of this new attraction is just like the old one: you board a boat, and travel on a magnificent journey through the country of Norway. Except this time, you're just cruising through Arendelle.
Video from the brand new ride show that it is truly a sight to be seen. No spoilers here — unless you choose to watch the full length video of the ride through, which you can, go right ahead. And you might wanna watch the ride through video, because the current wait time to ride Frozen Ever After is 300 minutes. false false
Five hours. FIVE HOURS. You can watch Frozen 2.9 times while you wait to ride Frozen Ever After. You can make it halfway to actual Norway (roughly a nine hour flight from Orlando International Airport) in the time it takes to wait in line for Frozen Ever After.
Guests inside EPCOT have been posting pictures of the crowd gathered outside the attraction all day. false false false
The crowd has expanded well past the Norway area of the park, and has circled nearby China (the layout of EPCOT does not mirror the real world). The crowd just to get into Norway is a dense pack through Mexico (once again, don't question EPCOT's geography). false false
If you're worried about the THOUSANDS of people waiting for 300 minutes outside in the Florida sun, don't worry. Disney is keeping everyone hydrated and cool. There are water stations scattered throughout the queue, and Mickey ice cream bars are being handed out. false
The wait might be long, but those coming off of the attraction are saying it was worth it. The original voice cast from the film — Kristen Belle, Idina Menzel, Josh Gad — are all back for this outing that'll put you right in the middle of the magic from the movie. Trolls and giant snowmen included. From what we've seen it LOOKS worth it. Okay, maybe not 300 minutes worth it, but you do you (and fair warning, the wait will probably be 300 minutes throughout all of [in Olaf voice] SUUUUUMMMMEEERRRR). false
BRB, planning our next vacation to Walt Disney World.