These new Charlotte Tilbury lipsticks are inspired by 12 of our favorite celebs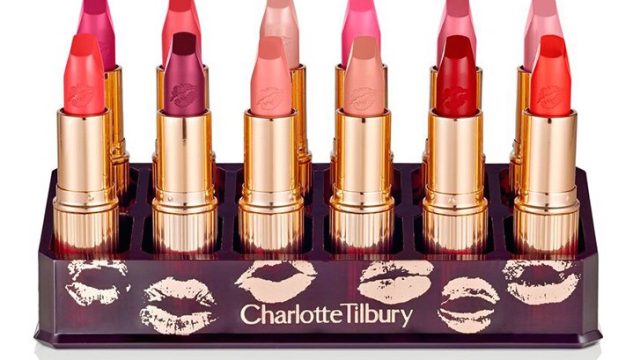 Charlotte Tilbury's latest lipstick release is one made just for the stars. The 12-piece Hot Lips collection is inspired by a different celeb, with each boasting a namesake shade.  On the list are "Salma's Secret," a natural deep-rose plum made for Salma Hayek; "Hot Emily," a '70s inspired coral created with Emily Ratajkowski in mind; "Hel's Bells", a rich, wine-hued shade created for Helena Bonham-Carter's goth stylings; and a nude shade called "Kim K.W." made for who else — Kim Kardashian West.
The nine other stars blessed with the custom Tilbury treatment include Nicole Kidman (Kidman's Kiss), Poppy Delevingne (Electric Poppy), Miranda Kerr (Miranda May), Cindy Crawford (Super Cindy), Kate Bosworth (Bosworth's Beauty), Liv Tyler (Liv It Up), Carina Lau (Carina's Love), and Laura Bailey (Tell Laura.) These celebs join Kate Moss, Penelope Cruz, Sienna Miller, and Victoria Beckham, who were the first stars to get lipsticks named after them. https://www.youtube.com/watch?v=
Tilbury described the inspiration for Kim's lipstick at a recent launch event for the line. "I always look at [Kim] and I think, 'you are a beauty icon,'" Tilbury said, according to PeopleStyle. "[Kim's] favorite color before this one was "Nude Kate," [which is] Kate's lip color. [So] I was like, I want to something that … goes back to all her beauty icons [and] that has that vintage feel." Tilbury also called Kardashian West "the queen of the nude lip."
While these incredibly gorgeous shades are at a higher price level ($38 each or $420 for the entire set), they were also created for a good cause. In the first two months of being sold, $2 from each lipstick will be donated to the Women for Women International, a charity organization that helps to provide support, education, and tools, for women in countries like Afghanistan, Sudan, Irag, and Nigeria.