Has contouring just been upstaged by a new beauty trend called draping?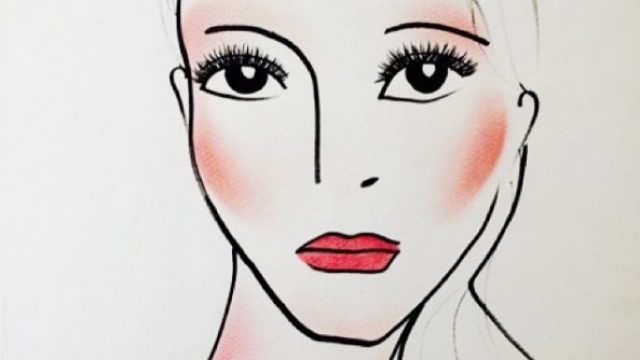 By now, we're all aware of the current popularized version of contouring. We also know it takes a certain level of skill and effort that not everyone wants to put into their makeup every single day. Thankfully, there are several other ways to give yourself a sculpted look without watching endless YouTube tutorials, and the latest one is called draping.
Much like contouring, draping is an age-old trick, and it involves using blush to sculpt your face. That's right, blush. The late celebrity makeup artist Way Bandy is considered one of the first to really utilize the technique. Bandy was the go-to artist back in the '70s, working on famous faces such as Farah Fawcett, Jerry Hall, and the inimitable Cher. Unfortunately, Bandy passed away in the '80s due to AIDS-related complications, but his legacy still lives on today and Marc Jacobs is making sure of it.
To celebrate Bandy, Marc Jacobs Beauty is bringing back draping with their new Air Blush Soft Glow Duos. Basically, the duo is a blush palette featuring two shades (one darker, one lighter) so you can "drape" your face in tones of color, customizing a natural looking yet sculpted glow.  In a statement released by Marc Jacobs Beauty, they noted that "[Bandy] embraced the concept of 'colour glow' as a way of bringing out the natural 'drape' of the face."
If it sounds complicated, it really isn't. Tony Tulve, makeup artist and Creative Director for Alcone Company, says the technique is two-step process that's pretty easy.
He recommends shaping the bottom of the apple of your cheekbone with a cooler tone of blush, then tapping a warmer shade over the apple and on the top of your cheekbones. "The contrast of undertones looks like that healthy, flushed glow, the kind you get when stepping off the dance floor." Basically, the darker hues "drape" or sculpt the face, while the lighter tones soften and diffuse the look for a natural finish. You can totally get the look using any of the blushes you already have at home.
Of course, if you want to try it out using the Marc Jacobs Air Blush Soft Glow Duos, those will be available at Sephora starting on July 15th and retail for $42.00. We think this trend will really take off as well, considering it makes anyone look instantly refreshed.