19 beauty launches that we're really, really excited for in 2018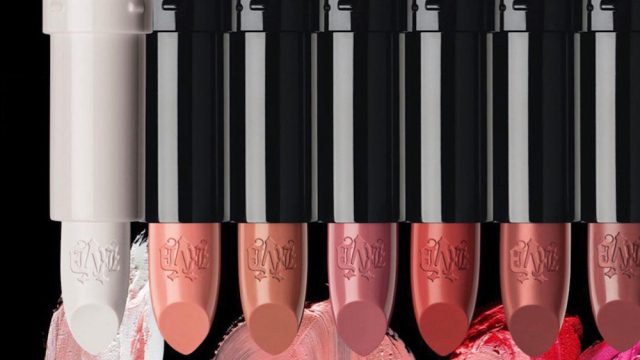 Even though we are mere hours from ringing in the new year, we're already starting to looking at the beauty launches that await us. With all the uncertainty in the world right now, it's nice to know that there are plenty of exciting beauty products and collection to look forward to in 2018.
Some of our favorite brands are cooking up innovative new products for the coming months, which means now is the time to start saving your pennies. So whether you're in need of a new palette, want to splurge on some fancy lipsticks, or need to up your skin care game — you'll be covered.
Let's take a look at the 24 beauty launches headed our way in 2018 that have us really, really excited.
1Kat Von D Beauty Studded Kiss Creme Lipstick Collection:
https://www.instagram.com/p/Bc5X-d2HmGp
We're so close to getting these 40 new lipsticks in an updated formula. In three different finishes: satin-matte; glimmer; and metallic, these weightless and long-wearing creamy lipsticks will be available online on the brand's website starting January 12th, online at Sephora on January 19th, and in-stores at Sephora on January 26th.
2Stila Cosmetics Glitterati Lip Top Coat in New Shades:
After the insane success of the initial launch of the limited-edition Glitterati Lip Top Coat last spring, Stila is bringing them back with two new shades.
3Bésame Cosmetics Agent Carter Collection:
https://www.instagram.com/p/BdGCwt8FfcY
In what is the most innovative and surprising launch we've ever seen, Bésame is leading a scavenger hunt for beauty-lovers to solve the mystery of what this collaboration might entail. You can sign up here to follow the adventure. Expect exciting new developments in 2018.
4KKW Beauty x Mario Dedivanovic Collection:
https://www.instagram.com/p/BVn-Bu7FG13
Now that we have official confirmation that Kim Kardashian will be collaborating on a new collection with her longtime makeup artist Mario Dedivanovic, we can't wait to see what glamorous creations they whip up for us.
5Kat Von D Beauty x Divine Collection:
Who better to pay tribute to such an iconic queen? This is set to launch in February 2018.
6Too Faced Life's A Festival Collection:
No matter the season or time, beauty lovers can't get enough of unicorn-themed products. Too Faced finally revealed they have an entire collection in the works. It's headed our way on February 15th.
7Kat Von D Beauty Inkwell Matte Liquid Liners:
We can't wait to try these brand new eyeliners, especially since Kat spilled that they'd include a variety of bright colors.
8Pat McGrath's New Lipstick Line:
There's a brand new lipstick collection on its way, and you can expect it to be just as innovative, creative, unique, and exciting as each of Pat's previous artful collections.
9MAC Cosmetics Lunar New Year Collection:
This collection includes five new lipsticks in satin, matte, and cremesheen finishes. It also features an eyeshadow palette with nine stunning shades and a blush duo. According to Trendmood, it will be available online on January 18th.
10Kat Von D Beauty Fetish Collection:
https://www.instagram.com/p/BdN6Otlgoyt
We don't have a lot of information to go on, but the artwork for this impending collection has piqued our interest. Could it be a single product or a whole line of new goodies? Our money is on an exclusive collection or product for her website.
11Kat Von D Beauty Eyebrow Collection:
https://www.instagram.com/p/BauLKfLgsYI
Kat is launching three new eyebrow products this coming spring: Brow Struck, a reflective powder; Signature Brow, a precision pencil; and Super Brow, a pigmented pomade.
12ColourPop Super Shock Shadows
ColourPop is launching new Super Shock Shadows. Of course, they look incredibly vibrant and ultra-creamy. We can't wait to get our hands on these.
13Kat Von D Beauty Blush Collection:
https://www.instagram.com/p/BbQFPkmlvSM
KVDB blushes have come and gone, but Kat revealed she's  releasing a whole new collection this coming spring. Fingers crossed it includes Lolita.
14Too Faced White Peach Palette:
As part of the ever-growing Peaches & Cream collection, this new palette features 12 shimmery and matte shades. Lucky for us, it will be available in mid-January.
15Kat Von D Beauty Everlasting Liquid Lipstick in New Shades:
https://www.instagram.com/p/Bao3NECn3-O
Milagro and Orale will hit the scene in 2018, as well as Haze and Haze II — two limited-edition shades being added to the permanent collection.
16S.W. Basics Single-Ingredient Pouches:
Natural skin care junkies, rejoice. You'll be able to customize and DIY your own skin care products thanks to S.W's pouches with activated charcoal, French green clay, aloe vera powder, shea butter, and jojoba oil. They'll be landing in Target stores at the end of January.
17Kat Von D Beauty Crushes Collection:
https://www.instagram.com/p/Bc8zfwHAVPk
As part of Kat's effort to have a bit more control over the distribution of her products, Kat will soon be releasing the Crushes collection exclusively on her website.
18Lancôme French Temptation Collection:
This new spring collection is a pastel dream. According to Trendmood, it includes Macaron sets with blushes and blenders; The Eye Sugar Palette; two Light Cream Duo Cushions: Juice Berry & Bright peach and Refreshing Pistachio & Pinky Peach; four L'Absolute Rouge Lipsticks with a matte finish; four Le Vernis nail colors; Jelly Flower Lip Tint, a sheer gloss with flower petals; and four mini Chubby Sticks. Phew! They'll be around in January, so don't miss this gorgeous, feminine collection.
19Kat Von D Beauty x Billie Joe Basket Case Eyeliner:
Kat and Billie Joe are old friends, so it's only fitting that they'd come up with the perfect rock eyeliner, which is available on January 5th. Get ready!
What are you looking forward to this year? Any beauty resolutions on the horizon?