The new Beautiful Boy trailer is here, and give Timotheé Chalamet an Oscar already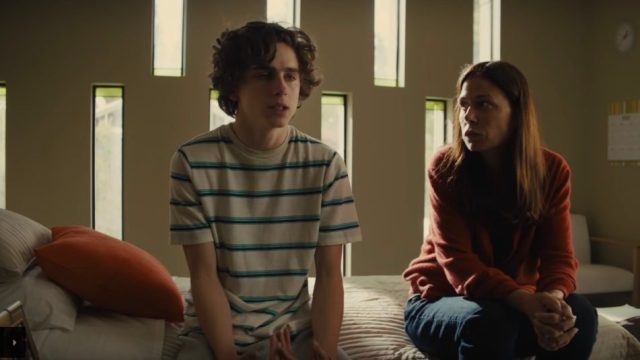 The reign of the great Timothée Chalamet continues. He may have captured our hearts in Call Me By Your Name, but now, prepare for him to break them in his latest role.
Amazon Studios just released the heartbreaking latest trailer for Beautiful Boy, and we can already hear the Oscar nominations rolling in. Based on the memoirs by David Sheff and Nic Sheff—played in the film by Steve Carell and Chalamet, respectively—the film follows a father and son through the son's battle with methamphetamine addiction. The film is also something of an Office reunion, as Amy Ryan (aka, Holly) stars as Nic's mom.
The devastating trailer offers glimpses of Nic's devastating addiction and his attempts to get sober as his father struggles to understand his condition.
"I had such grand plans," Carell says in the trailer. "He'd graduate from college, do something amazing, and now I just want him to not die."
Watch the new trailer for Beautiful Boy below, and try not to cry:
https://www.youtube.com/watch?v=8NR8w8s9zWA?feature=oembed
The film premiered at the Toronto International Film Festival in early September, and is already receiving Oscar buzz for Carell and Chalamet.
And Beautiful Boy doesn't just have A-list talent in front of the camera. Brad Pitt and his production company, Plan B Entertainment, are producing the project, and it was co-written by Luke Davies and Felix Van Groeningen.
Beautiful Boy is set to open in theaters on October 12th.