The new "Beaches" trailer is here and we're not crying, you're crying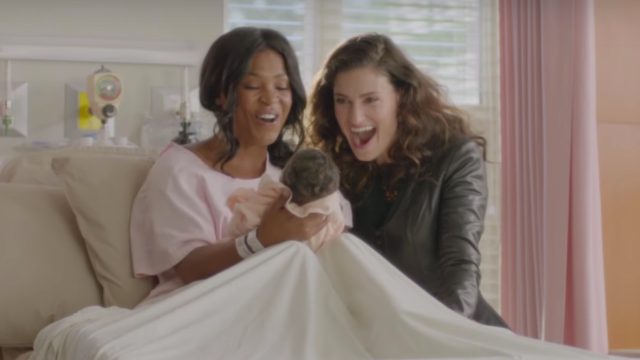 Grab the tissues: Lifetime has released a minute-long trailer for their upcoming remake of Beaches complete with Idina Menzel singing "Wind Beneath My Wings" and we cannot handle all the feelings.
The previous teaser released for the film also featured Idina Menzel's beautiful voice speaking directly to our souls. But this trailer takes that emotion to the next level. It shows iconic moments of the friendship between C.C. (aka Idina Menzel) and Hillary (aka Nia Long).
From their famous photo booth session as kids to the ongoing support they showed to each other throughout the years, it packs and emotional wallop.
https://www.youtube.com/watch?v=NuKOIHqPuWM
Of course, it doesn't hurt that Idina sounds like an actual angel while singing the famous song that plays beneath the trailer. If you thought you could get through the trailer without crying, Idina's rendition of that song definitely makes it a challenge.
It's hard to top the classic movie with the wonderful Bette Midler. But with the powerhouse talent (and voice) of Idina, we have no doubt this will be amazing.
The chemistry between Idina and Nia is obvious in the sweet moments the two women share onscreen.
They are basically the definition of BFFs. Seeing this modern take on this classic tear-jerker is reminding all of us to call our bestie ASAP. And while you're on the phone with them, maybe set up a date to watch this movie together when it comes out on Lifetime on January 21.