The internet is having a meltdown over the new Baby Groot in "Guardians of the Galaxy Vol. 2"
At the end of Guardians of the Galaxy — and wait, if you haven't seen the movie, stop what you're doing and watch it IMMEDIATELY — big, strong, lumbering tree-like-alien Groot sacrifices himself to save the rest of the Guardians. He's not lost completely, though, because Rocket Raccoon finds one of Groot's twigs and plants it. That twig grows into what we've lovingly dubbed "Dancing Baby Groot," and he's amazing.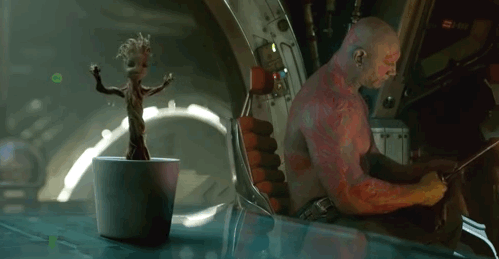 He's also coming back for Guardians of the Galaxy, Volume 2. But, like like all things (including tree-aliens), Groot has grown up a little bit. He's no longer "Baby Groot." He's more like, Tween Groot.
Tween Groot is the cutest thing on the face of this planet. Just you wait and see.
During the Marvel panel at San Diego Comic-Con Saturday night, Guardians director James Gunn brought along some newly finished footage from the movie, one of them being a scene showing the world this new Tween Groot. And listen: You might think you've seen cute things in your life, but you have not. You haven't seen anything cute and adorable until you've seen Tween Groot and his adorable big eyes, and his precious and sweet wooden face, and the fact that he's so little BUT HE'S TRYING SO HARD TO HELP. 
The audience at the Marvel panel immediately fell head over heels in love with this new Groot, to the point that everyone was oohing and cooing at him, as if he were a IRL baby…ahem, tween.
false
A brand new trailer for Guardians Vol. 2 was revealed at Comic Con, but sadly, it hasn't made it onto the internet just yet. That means, you're going to have to wait a little bit longer to catch a glimpse of Tween Groot but TRUST — it'll be totally worth the wait. Start preparing yourselves for the cutest thing you are ever going to see in life. Start preparing your wallets for all the Tween Groot merchandise you're going to buy, too.