Apparently you should really never, ever surprise Nicole Kidman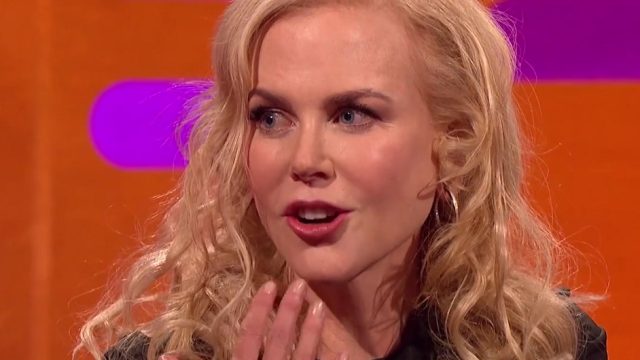 Nicole Kidman is elegance, poise and sophistication all rolled up into a beautiful package. It's little wonder she continues to grace the screen even as her big 5-0 rolls around. This week alone she unveiled four film projects at the Cannes Film Festival. The woman is unstoppable!
So, imagine our surprise when we learned this tall drink of perfection doesn't always react perfectly to surprises. In fact, her reaction is downright unusual!
On a recent visit to The Graham Norton Show, Nicole revealed she actually has a physical reaction whenever she's too shocked. Are you ready for it? Nicole immediately breaks into a cold sore.
Yes, you heard right…cold sore! Ouch!
https://www.youtube.com/watch?v=h44SfZv8nhc?feature=oembed
In the video clip, Nicole describes a hilarious incident that happened on her 30th birthday. Nicole walked into her surprise birthday party and was so shocked to see her mom, who had flown in from Australia, she broke into a cold sore. Right on the spot. According to Nicole, she felt revolting the entire night and just wanted to go home.
Luckily, Nicole's amazing husband, Keith Urban, is well aware of her dislike for surprises. For her 40th birthday, he opted to keep the celebration intimate. Nicole was shooting a film in a small Australian town at the time. Keith had a couch dropped off on a mountain top. With the aid of a local fireworks company, he set off a ton of fireworks. They watched it from the mountain top.
It makes our heart melt, and we can't handle it!
If you want to see more of Nicole, she has a slew of top quality flicks. Her upcoming projects include Jane Campion's Top of the Lake, Yorgos Lanthimos' The Killing of a Sacred Deer, Sofia Coppola's The Beguiled, and John Cameron Mitchell's Hot to Talk to Girls at Parties. Talk about the top of the top.
Nicole, your talent is the stuff of dreams. We love that you are still going strong on screen and in real life. You prove age is nothing but a number.