Nevada voted to end the "tampon tax"—and this should be the norm, NOT the exception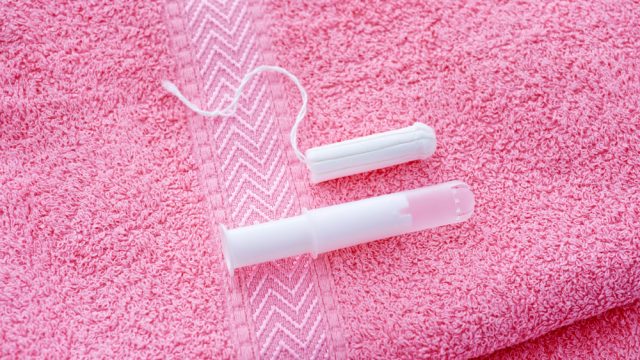 By now, we've all heard about the dozens of history-making congresswomen elected during the 2018 midterms. But this year's elections had other wins for women as well. In a huge victory for feminism, Nevada has officially voted to end the tampon tax.
According to CNN, 56.9% of Nevada voters said yes to Question 2, eliminating the state's 6.86% sales tax on menstrual products. With the passage of this ballot measure, Nevada has become the 10th state (including D.C.) to end the sexist tax. Question 2 will take effect on January 1st, 2019 and is scheduled to expire on December 31st, 2028.
The Reno Gazette-Journal reports that state senators Yvanna Cancela and Joyce Woodhouse proposed this year's ballot measure. According to local NBC affiliate KRNV, the Nevada state senate and assembly had already approved the repeal of the tax, and the state's governor had signed it, but it needed voters' approval before officially becoming law.
Supporters of the measure celebrated the news on Twitter.
https://twitter.com/udfredirect/status/1060250498815553536
Technically, the tampon tax is just the regular state sales tax. But proponents of Question 2 pointed out that the Food and Drug Administration classifies tampons as medical products, and other medical products, like splints and bandages, aren't subject to sales tax. Other products, like groceries, candy, and soda, are also exempt from state sales taxes, and supporters of Question 2 argued that charging sales tax on menstrual products is a discriminatory practice.
CNN notes that ending sales tax on menstrual products could cost Nevada between $4.96 million and $7.11 million in yearly tax revenue. But Cancela told Marketplace that this is a "pretty small amount" when taking the state's entire budget into consideration. Marketplace notes that, since the current biennial budget for Nevada is $8.1 billion, the revenue lost from the tax would only equal about 0.17% of the budget.
Given that pads and tampons are necessary for half of the population, it seems ridiculous that these products are taxed anywhere. We applaud Nevada for taking this step toward gender equality, and we hope to see other states follow suit asap.