Netflix wants to help you fall in love this summer with its five brand new rom-coms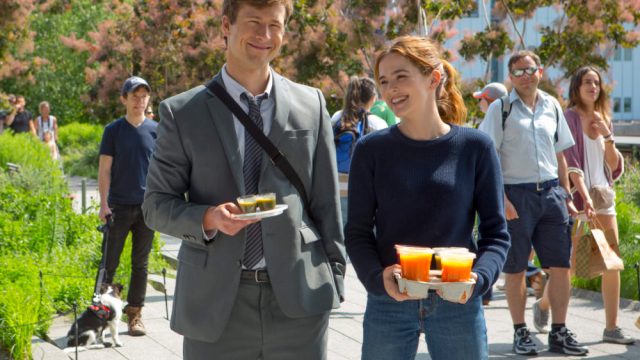 It's hard to believe it now, but there was once a time when we thought the romantic comedy had officially gone on a One Direction-style hiatus. With the odd exception, the past few years have been dominated by superheroes, franchise reboots, and Winston Churchill biopics, leaving little room for the airy, lovable genre.
But while we were busy lamenting the end of the meet-cute, quirky protagonists, and bubbly music, Netflix was quietly pulling through to save the rom-com. In case you haven't been glued to your queues, we're officially in a Netflix-induced rom-com renaissance, and we are so here for it. In the last month alone, the streaming platform has released a half-dozen rom-coms, each covering a different corner of the genre's wide landscape. From teen rom-coms like The Kissing Booth and Alex Strangelove to international additions like Catching Feelings and Ali's Wedding to the newly released and overwhelmingly loved Set It Up, Netflix is making a rom-com for everyone.
And don't worry, the streaming platform isn't planning on slowing down anytime soon. In fact, keeping in tradition with a favorite romantic comedy trope, the summer romance, Netflix wants to help us fall in love…with more rom-coms.
The streaming platform just unveiled a summer rom-com line-up so good, even the most cynical movie watchers will find the perfect fit.
This film follows a couple, Lin Jianqing (Jing Boran) and Fang Xiaoxiao (Zhou Dongyu), over the course of 10 years, from their chance meeting on a train and their subsequent relationship to their chance reunion on a plane a decade after they first met. Sometimes the best rom-coms pack in more drama than we're prepared for, so we're warning you now, you'll probably cry when watching Us and Them…but love every second of it.
A failed wedding goes from bad to worse when a jilted workaholic bride (Kristen Bell) embarks on the honeymoon she was supposed to take after the wedding — with her estranged father (Kelsey Grammer). But while the pair attempt to mend their rocky relationship on the cruise, Bell's character may just find love in another single passenger, played by Seth Rogen.
Based on the best-selling historical novel by Mary Ann Shaffer and Annie Barrows, the film follows a writer in the aftermath of WWII who embarks on a project writing about the residents of Guernsey Island who formed a secret book club during German occupation. The film boasts one of the most stacked casts of the summer, including Lily James, Game of Thrones' Michiel Huisman, Glen Powell, Jessica Brown Findlay, Matthew Goode, and Downton Abbey's Penelope Wilton..
Based on the best-selling YA novel by Jenny Han, the film follows teenager Lara Jean (Lana Condor), whose secret love letters to her former crushes somehow get mailed to their recipients, spinning Lara Jean's life out of control. Janel Parrish, Israel Broussard, and The Fosters' Noah Centineo also star in the film.
Based on the play Cyrano de Bergerac — teen rom-coms were honestly built on centuries-old plays — the film follows two teens on opposite ends of the high school social food chain who, after a case of mistaken identity, team up to win over the respective crushes. The film stars Shannon Purser (yay for Barb!), Kristine Froseth, RJ Cyler, Noah Centineo, Chrissy Metz, Alan Ruck, and Lea Thompson.
But while these exciting new titles will be slowly released throughout the summer, the streaming platform knows exactly how to keep us occupied — by encouraging us to catch up on its already-released original rom-coms!
Knowing exactly how hard it can be to choose a movie, the streaming platform has also released a quiz to help you find the perfect rom-com for every mood: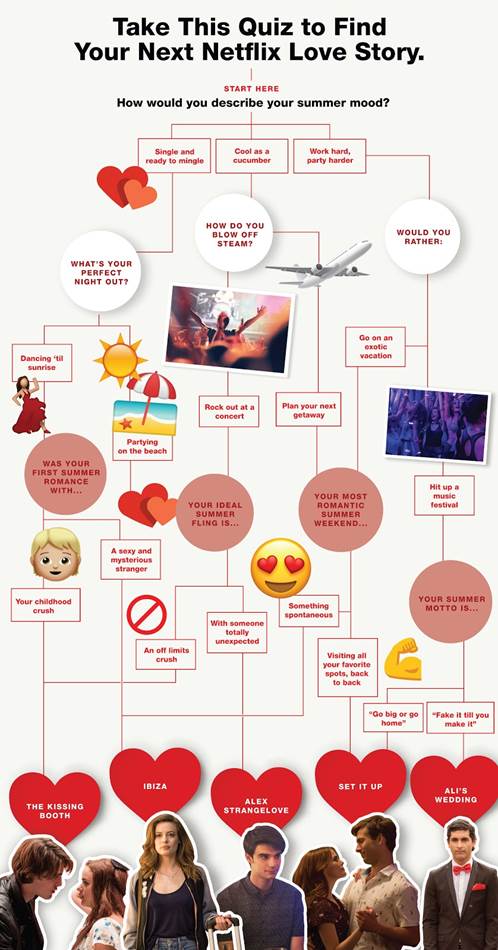 Welp, we'd better do what the quiz says and go watch Set It Up again. Who needs a fun summer fling when you can watch Netflix rom-coms, amirite?