Here's why Netflix is in deep trouble over its depiction of smoking in shows like "Stranger Things"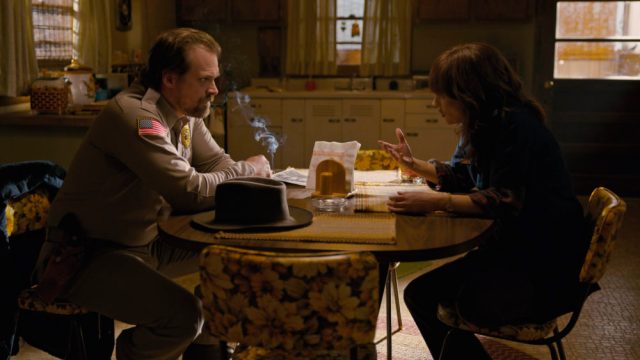 Just as it's difficult for smokers to quit cigarettes, streaming platforms like Netflix are struggling to snuff out the portrayal of tobacco use on screen. And according to a recent study by anti-smoking group Truth Initiative, Netflix's original shows feature the most cigarette-related instances, citing a whopping 319 "tobacco incidents."
Ironically, Stranger Things — a show for and about kids — was named the worst offender, with 182 smoking depictions in the first season alone in the Truth Initiative study. Coming in second was AMC's The Walking Dead, with 94 smoking scenes. The next four slots went to other Netflix shows: Orange is the New Black (45 incidents), House of Cards (41 incidents), Fuller House (22 incidents), and Making a Murderer (20 incidents).
It's worth noting that the anti-smoking organization only focused on programs that are popular with young people aged 15-24, and that they found that 79% of the sampled shows conspicuously portray smoking. Not to mention, the third and fourth placers — OITNB and House of Cards — are both rated TV-MA, which means that teens shouldn't be watching them anyway. Meanwhile, Stranger Things is rated TV-14 (suitable for viewers 14 or older), and Fuller House is rated TV-Y7 (suited for audiences over the age of 7); and to be fair, the former is set in the 1980s, while the latter is clear on its anti-smoking stance.
https://www.youtube.com/watch?v=vgS2L7WPIO4?feature=oembed
As more and more people are ditching their cable boxes for streaming services, there is now a "pervasive reemergence of smoking across screens that is glamorizing and renormalizing a deadly habit to millions of impressionable young people. It has to stop," Robin Koval, CEO and president of Truth Initiative said in a statement. "Well-documented movie research shows that youth and young adults with high exposure to tobacco imagery are twice as likely to begin smoking as those with less," the research notes.
"While streaming entertainment is more popular than ever, we're glad that smoking is not. We're interested to find out more about the study," Netflix responded.
Streaming sites are not restricted to the same strict rules as broadcast television. As a result, their content includes more sex, violence, and smoking. In the movie realm, meanwhile, the Motion Picture Association of America (MPAA) considers smoking a factor in rating films. Which begs the question: Should Netflix, Hulu, Amazon, and other streaming platforms follow suit?
In any case, we're glad to see Netflix taking the study seriously.