Netflix's response to the allegations against Kevin Spacey is harsh AF, as it should be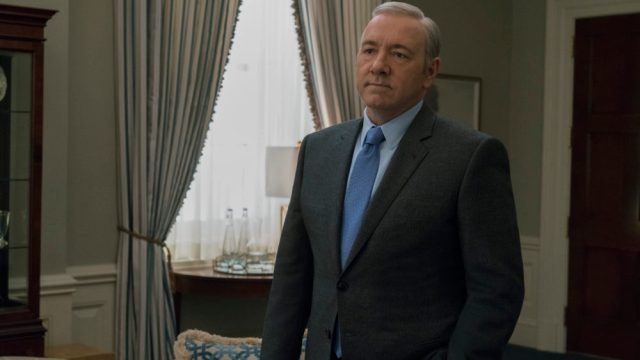 Barely an hour after they announced they were ending their flagship show, House of Cards, Netflix has issued a very harsh response to the allegations against Kevin Spacey.
In a bold move, the streaming site announced today that they would end House of Cards after six seasons; Season 5 aired earlier this year, and Season 6 is currently in production and scheduled to be released later this year. This all comes on the heels of BuzzFeed News' report that when he was 14, actor Anthony Rapp was sexually assaulted by Spacey, who was 26 at the time.
When Netflix announced they were ending their long-running and prestigious show, the company didn't offer up any statement on the matter. Now, in a statement to TV Line, Netflix and the production company behind House of Cards, Media Rights Capital, have weighed in on the story:
"[We] are deeply troubled by last night's news concerning Kevin Spacey. In response to last night's revelations, executives from both of our companies arrived in Baltimore this afternoon to meet with our cast and crew to ensure that they continue to feel safe and supported. As previously scheduled, Kevin Spacey is not working on set at this time.
To give context to this, it's very rare for executives to travel to the shooting location for a show, especially one that's been on the air for five seasons already. It's completely unclear whether Netflix always intended to end the series after six seasons, or, if in light of recent allegations, they decided to pull the plug today. We'll probably never know, since, as always, Netflix works in mysterious ways.
Supposedly, House of Cards is already two weeks into filming the (now final) season, and Spacey wasn't scheduled to be on set today. He issued an apology to Rapp late Sunday night, but the apology ("apology") was met with disapproval, as Spacey appeared to try and pivot the conversation away from his allegations to the fact that he has finally decided to come out as gay.
As of right now, House of Cards is expected to continue filming, but that could possibly change at any moment. This continues to be a developing story.