Netflix officially renewed GLOW for Season 3, and the announcement vid is glorious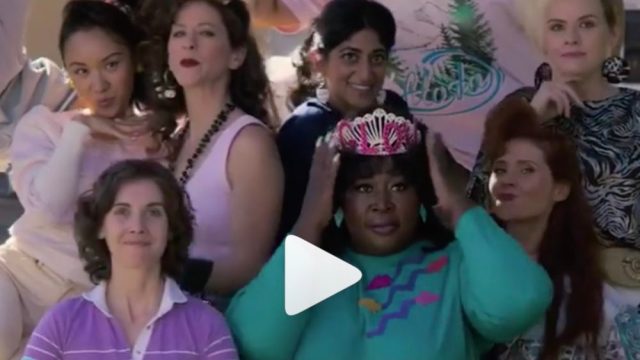 It's been a mere two months since Netflix released GLOW Season 2 on June 29th for our streaming pleasure, but we're already missing the gorgeous ladies of wrestling. Thankfully, it seems we won't have to wait too long to get back in the ring, because Netflix has officially greenlit GLOW Season 3 Excuse us while we bust out our hairspray and leg warmers to celebrate.
The official GLOW Twitter account shared the news today, August 20th, tweeting out a promo for the upcoming season. And with 10 Emmy nominations in 2018, we'd have honestly been shocked if Netflix didn't renew the hit series.
While the promo clip (which features a compilation of the word "three" from various episodes) didn't give too much away, the tweet made it clear that the ladies won't be leaving Las Vegas anytime soon after they arrived at the end of last season.
"Did you think we'd GLOW to Vegas without you?" the official announcement tweet reads. "Let's do this!"
With the details of Season 3 still under wraps (and possibly not written yet), we still don't know much about what will happen next. But if the upcoming season is anything like Season 2, which gave us laughs, tears, and even an incredibly poignant #MeToo-related episode, we'll be in for a powerful ride.
One of the show's stars, Betty Gilpin, also shared her excitement at the news, tweeting, "WHAT HAPPENS IN VEGAS GOES INTO YOUR TELEVISION. SEASON 3 @GlowNetflix BABY!!" false
As The Hollywood Reporter notes that Netflix hasn't announced a release date for Season 3 yet, but given that the first two seasons dropped in summer, we're crossing our fingers for summer 2019.
We can't wait to see more Ruth, Debbie, Rhonda, Tammé, Sheila, and the rest of the crew as soon as possible. We'll be keeping an eye out for updates about the upcoming season, and until then, we'll just have to binge watch the first two seasons again.