Netflix has a premiere date for "Orange is the New Black" Season 5, and we're ready to head back to Litchfield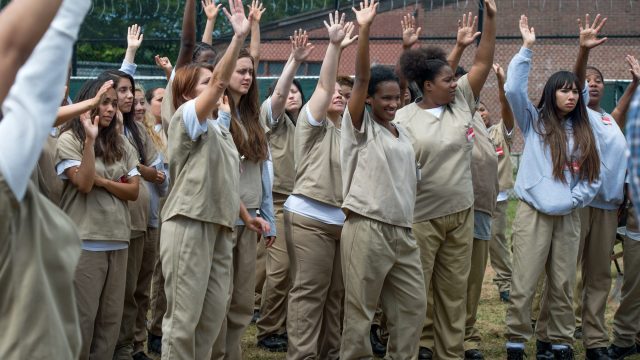 We know you're probably still reeling from Orange is the New Black's explosive fourth season but you better get ready because season five is just around the corner. The first teaser for the upcoming season is here, and reveals that the series will hit Netflix on June 9th.
The simple but powerful teaser is only fourteen seconds long but it features a glimpse at all our favorite Litchfield ladies, including Alex, Piper, Nicky, Lorna, and Taystee, and let's just say, things are looking ~pretty~ intense. The teaser ends with Daya pointing a gun at the camera, which fans of the show remember from the season four finale.
Check out the full teaser below:
https://www.youtube.com/watch?v=aU_FvfdCBRk?feature=oembed
On the Screen Actors Guild awards, Danielle Brooks, who plays Taystee revealed a little bit about season three to E! News. With the inmates still reeling from the shocking death of Poussey, Brooks says the season is going to be very intense.
"Season five is done over the course of three days," she revealed. "You will watch 13 episodes, and find out what happens in the course of three days. So, it will be very detailed, very intense, and you better get ready. Get your popcorn, your tissues, everything."
Orange is the New Black has always been known to surprise viewers but the death of Poussey was something nobody saw coming. Last year, the Netflix hit was renewed by the streaming service through season seven so we're glad they were able to slow down the timeline of season five, allowing the characters and views to properly grieve the death of the fan favorite.
We can't wait for the full trailer to drop so we can see what kind of drama the ladies have in store for this upcoming season.