Well this is super awkward, but Netflix just announced they're ending "House of Cards"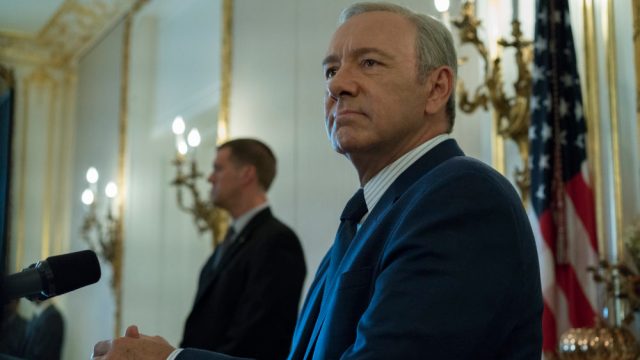 Welp, this is some awkward timing. Netflix has just announced they are ending House of Cards after six seasons.
Season 5 aired earlier this year (and premiered on a Tuesday, it was weird), and Season 6 is currently shooting right now. Ending a show after a long, prestigious run is nothing out of the ordinary, because it happens all the time with television. The end of House of Cards, though, marks one of the first, and few, times Netflix has given an end date to a series. Currently, almost all Netflix originals are considered "on-going," except for those that have been outright canceled. House of Cards was also the *first* Netflix original to really propel the streaming site into mainstream television, and has garnered critical acclaim and a handful of Emmys.
Ending House of Cards, not too out of the ordinary, right? WRONG. Sunday, BuzzFeed News published a report in which Anthony Rapp (who originated the role of Mark in Rent, and currently stars on Star Trek: Discovery) came forward with a story about being sexually assaulted by Kevin Spacey some 30 years ago — at the time, Spacey was 26, and Rapp was 14.
Immediately, there was outcry from all over, and Spacey's follow-up apology (actually, going to put "apology" in quotes), in which he claimed he could not remember the incident, did not help. Also, in the second paragraph he confirmed a long-running rumor regarding his sexuality, and came out as gay:
House of Cards' creator, Beau Willimon (who left the show in Season 4) issued his own statement regarding the accusation, and he joins many, many others in condemning Spacey's behavior and his apology, which seemed to try and pivot the conversation to his sexuality, rather than his predatory behavior.
And now, Netflix has announced that they are ending House of Cards, with the final season to air in 2018. Netflix hasn't publicly commented on the accusations against Spacey, but it just seems waaaaay too convenient that, barely 15 hours after this news first broke, the streaming giant is ending their flagship series that had Spacey at the helm.
So did Netflix make this announcement because they always intended to end House of Cards with Season 6, and considering the outcry today, wanted to make this statement? Or, in light of the allegations, did they decide to end it and announce today? We'll probably never know what's going on behind the scenes, but we know what's happening off-camera with Spacey, and it's not good.
Our hearts go out to Rapp and anyone affected by sexual abuse and harassment.