Queen of Christmas Vanessa Hudgens is back in Netflix's holiday movie lineup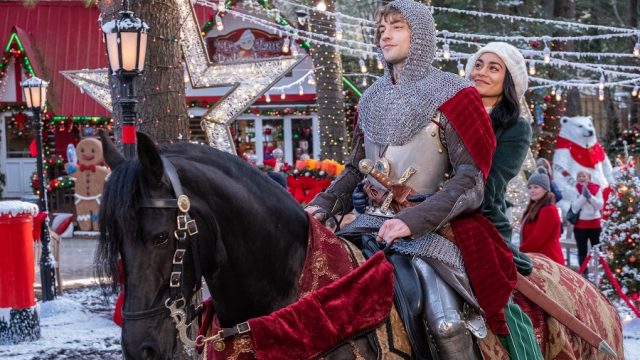 The countdown to Christmas is officially underway! On Tuesday, October 15th, Netflix revealed all the movies and TV shows coming to the streaming platform starting next month—and folks, get your hot cocoa and comfy blankets ready because the lineup is massive. Not only does it include a third Christmas Prince film, but there's also original content starring resident holiday movie queen Vanessa Hudgens.
Even though it's only October, it's never too soon to get excited about the holiday season. In fact, Netflix even provided us with a tentative schedule of release dates so you can mark them in your calendars and plan your lounging accordingly. Below is the entire holiday lineup, but first, we have to highlight some of the movies and shows we're most excited about.
Holiday in the Wild
Beginning on November 1st, we'll see Sex and the City's Kristin Davis in Holiday in the Wild, a movie about a woman who goes to Africa alone after her husband leaves her ahead of their "second honeymoon." On her trip, she meets and helps a studly pilot (Rob Lowe) after he rescues an orphaned baby elephant.
Let It Snow
Then, there's Let It Snow, which premieres on November 8th and is based on the best-selling book by John Green, Maureen Johnson, and Lauren Myracle. It stars the Chilling Adventures of Sabrina star Kiernan Shipka as one of eight high school seniors who gets snowed in on Christmas Eve after a massive snowstorm hits their town.
The Knight Before Christmas
Hudgens will also make her return to holiday films in The Knight Before Christmas on November 21st. In it, she befriends a medieval knight (Josh Whitehouse) who gets magically transported to present-day Ohio during the holiday season. It sounds like a Christmas version of Kate & Leopold—and we're totally here for it.
Merry Happy Whatever
Meanwhile, Ashley Tisdale will star in Merry Happy Whatever, a series about a strong-willed dad (Dennis Quaid) who must balance his family and the stress of the Christmas season when his youngest daughter (Bridgit Mendler) comes home for the holidays with a new boyfriend (Brent Morin). It premieres on November 28th.
A Christmas Prince: The Royal Baby
On December 5th, Netflix will drop A Christmas Prince: The Royal Baby. If you haven't seen A Christmas Prince or the sequel A Christmas Prince: The Royal Wedding, do it right away because the third movie is the continuation and sees Queen Amber (Rose McIver) and King Richard (Ben Lamb) preparing for their first child's arrival. However, they run into complications after a priceless treaty goes missing.
You can also expect to see holiday episodes of The Great British Baking Show, Nailed It!, and Sugar Rush for all you baking lovers, as well as a slew of other holiday-themed content coming to Netflix over the next few months.
Here's everything that's on the Netflix holiday-themed calendar:
November 1st
Christmas Break-In
Christmas Survival
Elliot the Littlest Reindeer
Holly Star
Santa Girl
The Christmas Candle
Christmas in the Heartland
November 4th
A Holiday Engagement
Christmas Crush
Dear Santa
November 15th
Klaus
November 26th
Super Monsters Save Christmas
True: Winter Wishes
November 28th
Holiday Rush
December 1st
A Cinderella Story: Christmas Wish
December 2nd
Team Kaylie: Part 2 (Holiday Episode)
December 6th
Spirit Riding Free: The Spirit of Christmas
Magic For Humans: Season 2 (Holiday Episode)
December 9th
A Family Reunion Christmas
December 30th
Alexa & Katie: Season 3 (Holiday Episode)
Check out the full Netflix trailer for all the cheerful entertainment below:
It's safe to say "Netflix and chill" will have a whole new meaning this holiday season.