Use these 9 Netflix hacks when you can't decide what to watch
We've all be there before. You're searching Netflix for something new (or old!) to watch and you become totally incapacitated by indecision and the plethora of options. That's when Netflix hacks can help you decide what to watch. From fancy technology-enhanced solutions to old school ideas, we've got you covered when Netflix decisions are taking away valuable time that could instead be used for watching Netflix.
Life's too short to waste it on figuring out what to watch on Netflix — you should be spending those precious seconds, minutes, and (gasp!) hours actually viewing the content on Netflix. While HelloGiggles is always here to lend a helping hand by making some suggestions on what to watch, sometimes you need to do the decision legwork yourself. So here are just a few ways you can narrow down what you want to watch on Netflix next time you find yourself staring at the screen.
1Search for your favorite actor.
Although Netflix's browse section is filtered by genre, you can actually search by an actor's name. Just type it in the search bar and Netflix will pop up all the titles related to that performer. Yay!
2Download the NEnhancer extension.
The ratings on Netflix aren't always reliable, so if you're feeling a bit snobbish, the NEnhancer extension for Google Chrome will show you Rotten Tomatoes and IMDb ratings for titles on Netflix, as well as trailers, to give you a better sense of what you would be watching — and what critics and audiences think — before you embark.
3Focus on a time period,
Just like with the actors, you can type in a decade and Netflix will give you options to watch TV shows or movies from that time period. So type in "1990s" in the search bar and you'll be watching 10 Things I Hate About You before you know it.
4Play Flix Roulette.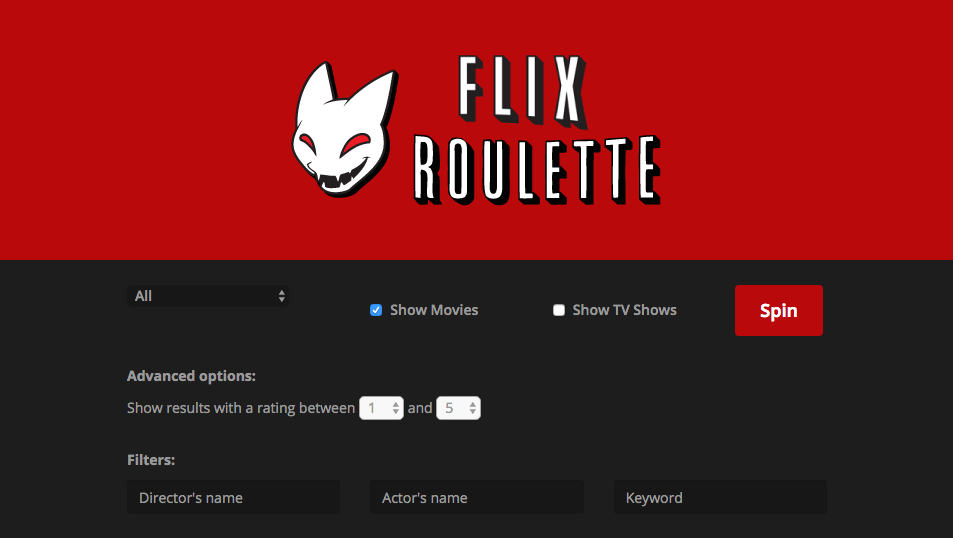 Are you feeling lucky? Head over to Flix Roulette and set a few parameters (or don't), and see what the Netflix roulette wheel lands on for you to watch. Fair warning: Sometimes it comes up with titles that aren't actually available to watch, but you can always try their updated Android app for more accurate results.
5Unlock Netflix's secret codes.
While Netflix provides some genres to help you focus your searching, like "Action" or "Comedies," sometimes you need a little more direction than that. That's when secret Netflix codes come in handy. What's on Netflix has provided a Netflix ID Bible that has all of the number codes for more specific categories like Foreign Sci-Fi and Fantasy (6485) and Romantic Comedies (5475). Just add the code you want to the end of this URL: http://www.netflix.com/browse/genre/ and your search will become much more focused.
6Make a paper fortune teller.
Has all this technology got you down? Go old school with a paper fortune teller to help you make up your mind. Have a friend over, choose eight movies you'd be OK with watching, and construct one of these schoolyard contraptions to narrow down your options. What's better than crafting + Netflix?! (Ahem … crafting + Netflix + wine.) Now we just need a good old game of MASH.
7Rate what you watch.
Netflix recently replaced its five-star rating system with the simplified thumbs up or thumbs down. In order to customize your Netflix to your tastes, utilize this new functionality so you get better matches and suggestions for you.
8Get into stand-up.
While you may be into Netflix more for binge-watching series, they provide a ton of stand-up comedy specials. Why not check out if any comedians that are featured on Netflix have a show coming near you and preview his or her work from the comfort of your own couch? It may even give you a new appreciation for the art form.
9Watch what's leaving that month.
As Joni Mitchell sings, "Don't it always seem to go, that you don't know what you've got till it's gone." And that's true every month as Netflix removes tons of titles that you hadn't even realized were available to stream. Thankfully, the company releases what's leaving Netflix (and what's coming), and we at HelloGiggles always provide a rundown, so you can watch these titles before they're gone and not live in regret.
Although this list won't solve all of your decision-making problems, hopefully, a few of these tips will assist you next time you're in Netflix decision purgatory.