11 Netflix-inspired group Halloween costumes, because there are oh so many good ones this year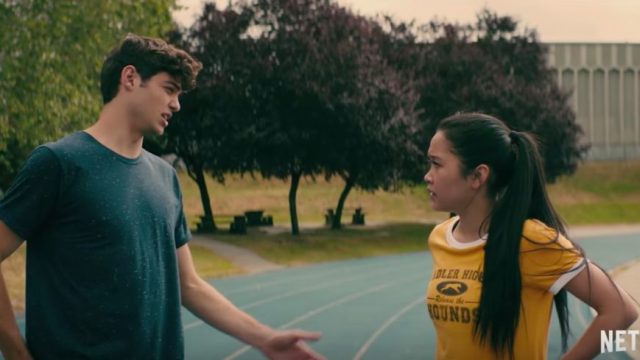 There are two things we know for sure right now: It's officially October, and Netflix has been crushing it lately with its OG content. So what better way to honor the most spooktacular of months and your favorite streaming platform than by convincing your friends to wear a Netflix-inspired group Halloween costume? (And don't worry, every costume on this list will be comfortable enough to keep on when you get home, collapse on the couch, and binge The Great British Bake Off.)
Netflix has been churning out prime original content for a few years now, but 2018 has been particularly strong (can you say "summer of rom-coms"?). In addition to movies, the platform has brought back new seasons of hit shows like Black Mirror, Stranger Things, and Unbreakable Kimmy Schmidt…to name just a few.
So if you and your besties all have the same taste in Netflix #content, look no farther than the group Halloween costumes below. And if you don't have a group, no problem—almost all of these can also be done solo.
1To All The Boys I've Loved Before
Lara Jean is not only an extremely relatable YA heroine, but girl's got style. Her '90s retro aesthetic involves a lot of layering, so layer it up, and corral a group of friends to dress up as Peter Kavinsky and a few of the other boys Lara Jean has loved before.
2Sierra Burgess Is A Loser
For those who had a feeling this list would start with Noah Centineo's movies…you were right. If you have blue marching band or cheerleading uniforms lying around, Sierra, Dan, and Veronica costumes are a piece of cake. And to dress up as Jamey, all you need to lock down is a ~dreamy~ smile.
3The Kissing Booth
One of the most pivotal scenes in The Kissing Booth takes place when Elle and Noah share their first kiss in—you guessed it—a kissing booth. To nail the Elle look from that scene, you'll need a white floral top and a black sleep mask. For Noah, a black faux-leather jacket is key. If you want a third person to dress up as Lee, fiiiine. And don't forget to make an actual kissing booth out of cardboard!
4GLOW
OK, now this is a fun one. Wrangle as many Gorgeous Ladies (Of Wrestling) as you can, and dig out your old leotards, sweatbands, shiny leggings, and hair curlers. Don't skimp on the glitter, ruffles, or eye makeup with this one.
5Orange Is the New Black
All you need for this super simple group costume is a few buds and orange or tan jumpsuits—and you're good to go!
6Stranger Things…with a twist
The past few Halloweens have admittedly seen their share of Stranger Things costumes, which is why we recommend mixing things up this year. Instead of dressing up as say, Eleven or Barb, get your crew to dress up as less expected parts of the show. You can go as an Eggo waffle, a Dungeons & Dragons board, or Will's bicycle. Coin it your "Obscure Things From Stranger Things" look, and get creative, y'all!
7American Vandal
Even if you haven't seen the crime mockumentary American Vandal, you probably have a good idea what it's about. Get a couple friends to dress up like Peter and Sam (with camera in tow), and get a third to be—you guessed it—the vandal.
8Black Mirror's "San Junipero" ep
This one is not only crazy creative, but it will allow several members of your group to go full-on '80s—and who doesn't love that? Dress up as young Kelly with a purple jacket or blazer, and then cover the heck out of it with rhinestone stickers. Top the look off with a black corset, mardi gras beads, and a cross necklace. For young Yorkie, you'll need a striped blue sweater, a pink collared shirt, loose khaki shorts, and Harry Potter-esque glasses. Two more from your group can dress up as older Kelly and Yorkie by wearing more muted versions of the same outfits and patting baby powder on their hair.
9The Great British Bake Off
This one is super simple and involves minimal effort: Throw on some aprons, toss some flour on your face and hair, and call it a day. Bonus points if you carry around a pie all night. However, if you're looking for a challenge, you can always go as your favorite dessert.
10Black Mirror's USS Callister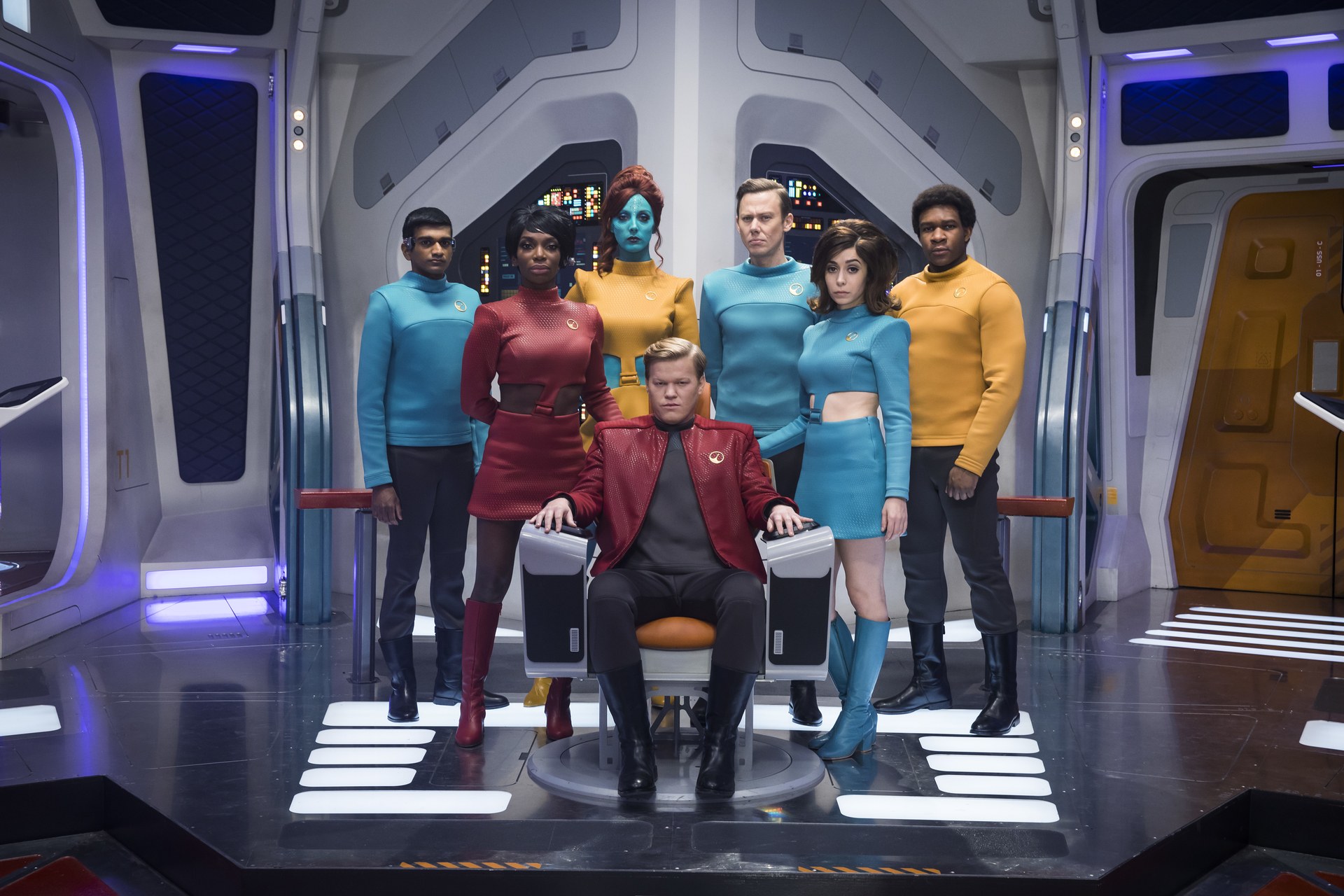 Yep, another Black Mirror episode—can you blame us? Assemble your crew and invest in some Star Trek-type apparel. Get one of your more adventurous friends to commit to some green body paint, and you're golden. You'll be a party favorite.
11Netflix's best features
false
And finally, here's an idea that any Netflix user will appreciate—and that you can easily make last-minute. Grab a few friends, throw on black shirts, print out images of your favorite Netflix features, and stick them on yourself. There's the "Are you still watching?" button, the "Skip intro" button, and, of course, the written-in-between-the-lines Netflix and Chill feature. For that last one, you're just going to want to dress as cozy as possible. A Snuggie wouldn't be out of order.
We hope you found these Netflix-inspired group Halloween costumes useful. Happy Halloween, friends!