Netflix has fired Danny Masterson, and we're so happy to see them taking action
Netflix just announced that it has fired Danny Masterson from its comedy series The Ranch, amid multiple allegations of rape made against the actor. In a statement released this morning, the streaming platform confirmed that Masterson would be written out of the series' third season, which is currently filming.
"As a result of ongoing discussions, Netflix and the producers have written Danny Masterson out of The Ranch," the statement read. "Yesterday [Monday] was his last day on the show, and production will resume in early 2018 without him."
Masterson has been under investigation by the Los Angeles Police Department since March, after three women came forward alleging they were raped by the That '70s Show actor in the early 2000s.
In the wake of Netflix severing all ties with Kevin Spacey (firing him from House of Cards and shelving his Gore Vidal biopic after sexual misconduct allegations — some dating back decades — began surfacing), many were frustrated by the streaming platform's inaction regarding allegations against Masterson. Before his firing, an online petition asking for the actor's removal from the series reportedly collected over 38,000 signatures.
Masterson's firing also comes just a day after HuffPost published a story revealing that a Netflix executive, Andy Yeatman, unknowingly told one of Masterson's accusers that executives of the streaming platform didn't believe the claims made against the actor by four women were credible.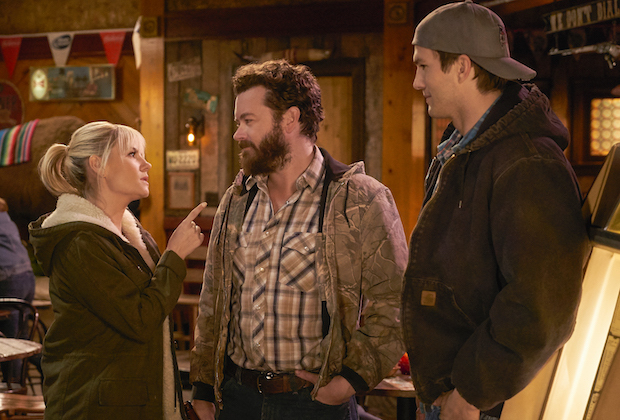 In a statement, Masterson expressed disappointment in his firing from the series and reiterated his denial of the accusations leveled against him.
"I am obviously very disappointed in Netflix's decision to write my character off of The Ranch. From day one, I have denied the outrageous allegations against me," he said. "Law enforcement investigated these claims more than 15 years ago and determined them to be without merit. I have never been charged with a crime, let alone convicted of one.
"In this country, you are presumed innocent until proven guilty. However, in the current climate, it seems as if you are presumed guilty the moment you are accused. I understand and look forward to clearing my name once and for all. In the meantime, I want to express my gratitude to the cast and crew that I've worked so closely with over the past three seasons. I wish them nothing but success. I am also so thankful to the fans that have supported me and continue to do so.
The second half of The Ranch's second season — slated to be released on Netflix on December 15th — will still feature Masterson, and Deadline reports that the actor will also appear in the first ten episodes of Season 3, which was shooting at the time of his firing and which will wrap up his character's storyline.
The Ranch, which also stars Ashton Kutcher, follows a former pro football player's (Kutcher) return to his hometown to work on his family ranch. Masterson played the older brother of Kutcher's character, while Sam Elliott and Debra Winger play their parents.