Forget listening to music in the morning — according to Netflix we're actually watching comedies at 6 a.m.
While we tend to associate Netflix binges with hours long marathons that extend into the night, new data released by Netflix shows we actually watch a lot of TV early in the morning. In a new set of user data from the wildly popular streaming platform, we binge around the clock — and our habits are fascinating.
According to the data, our favorite time to watch comedies is *bright* and early — 6 a.m. We like to start our day the right way, with a laugh, streaming fan faves like The Office, Friends, and Unbreakable Kimmy Schmidt before the bleakness of the world gets us down.
Conversely, the data showed that starting around 9 p.m., we love to get a little scared as that's the most common time to break out thrillers and horror titles like Stranger Things and Scream. But because the last thing we see before bed can't be a Walking Dead zombie, there's a spike in light-hearted comedies like Parks and Recreation *right* before bed.
The data also shows fascinating viewing habits in various countries around the world. For instance, while most of the world loves a thriller at night, Spain and Portugal prefer to watch Scream and Stranger Things between the hours of 2 p.m. and 4 p.m. Countries where the daily commute can be anywhere between one and three hours, like India, also tend to see a massive spike in viewing at 9 a.m. and 5 p.m. — during peak commute times.
Globally, one of the most consistent trends was when we watch our favorite documentaries like Chef's Table and Planet Earth. Overall, most people turn off their scripted content before bed, leaving a little time to learn something, with documentaries and docuseries seeing a 24% increase between the hours of midnight and 6 a.m.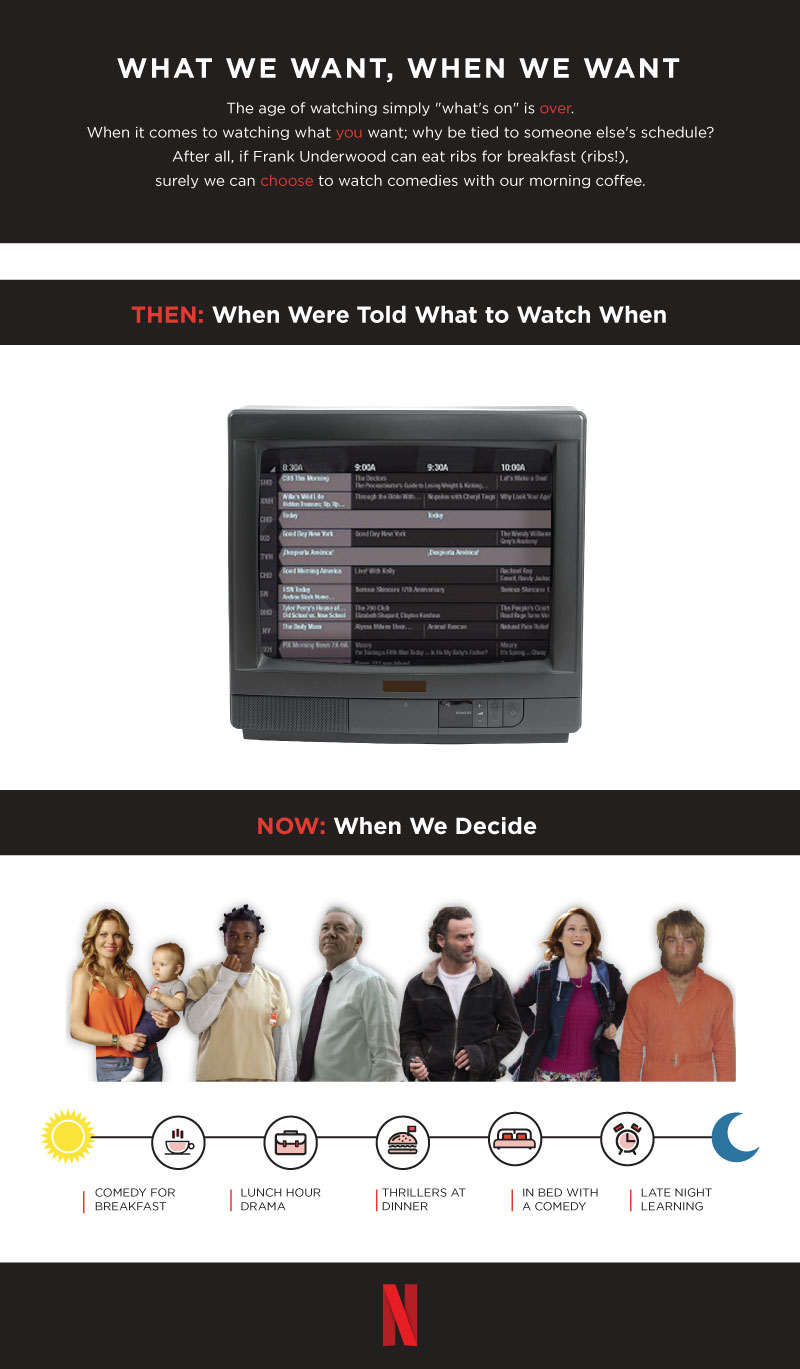 It certainly seems like Netflix users around the world have perfected their viewing experiences — meaning it's never to early (or late) to fit in a quick binge session.