Netflix just helped a couple get engaged, setting the bar VERY high for all future relationships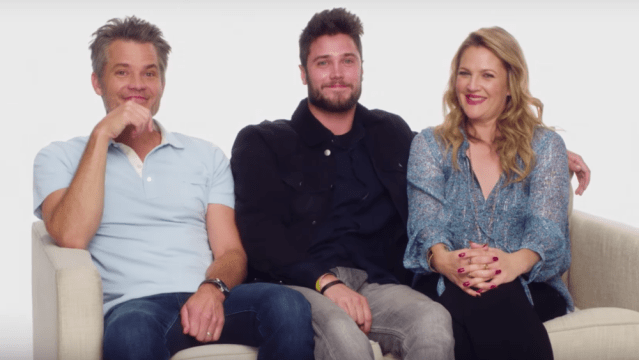 Now that we're reaching peak holiday season, it's time to prepare for the inevitable influx of engagements filling your Facebook and Instagram feeds. But everyone taking that big step this holiday season better up their game because Netflix just helped this couple get engaged, and it's probably the most adorable thing we've ever seen.
Conor and Kamela are Netflix super-fans who actually used the streaming platform during their first date nearly six years ago, so Conor knew he wanted to incorporate the site into his proposal. In the video, Kamela thinks that she and Conor were cast in a reality show for the streaming platform, and she reveals her current favorite Netflix show, Santa Clarita Diet, and her overall love for the streaming platform in a "confessional."
But when the two sit down to indulge in some Santa Clarita Diet, Kamela is in for a major surprise. As Joel (Timothy Olyphant) and Sheila Hammond (Drew Barrymore) open up about the key to a happy marriage — because things can *literally* get a little messy sometimes when one of you is a zombie who craves human flesh — they're quickly joined by a very special guest: Conor.
Kamela is totally stunned to see the real Conor take over.
And luckily, the "reality show" cameras rigged all over the room caught the entire proposal!
https://www.youtube.com/watch?v=OynMY2JC200?feature=oembed
Kamela is completely caught off guard by the elaborate scheme as Conor gets down on one knee to say those iconic words, with a twist: "It's been awesome being your boyfriend, but if you're cool with it, I'd rather be your husband." 
Kamela couldn't have said "yes!" any faster!
And because Netflix helped pull off this beautiful proposal, Olyphant and Barrymore were the first people to congratulate the couple on their engagement. Honestly, we'd be lying if we said this proposal didn't move us to tears.
So to anyone looking to get engaged this holiday season, take a good look at this video because it's definitely a winner. And congrats to Conor and Kamela!