The Chilling Adventures of Sabrina is dropping a holiday special, and praise Santa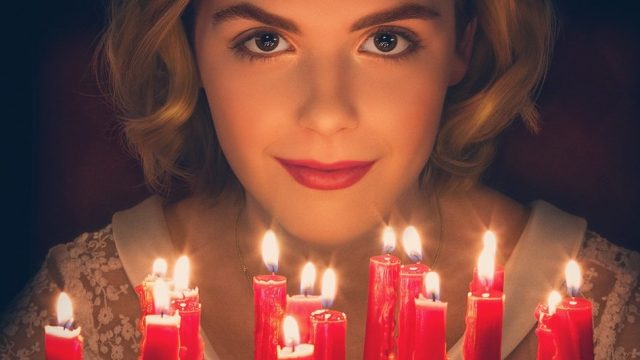 Christmas might still be 42 days away, but The Chilling Adventures of Sabrina has given us a gift we didn't know we needed until now. We won't have to wait for the reboot's second season to see what happens to Sabrina Spellman, because a holiday special of the dark and twisted Netflix series is coming soon. Netflix is spreading holiday cheer this season by adding a bunch of new (and classic) Christmas films and holiday-themed TV show episodes—including a bonus holiday episode of CAOS that promises pagan carols, ghost stories, and more from our favorite coven.
According to Netflix, the episode, titled "A Midwinter's Tale," will revolve around the Church of Night's celebration of the Winter Solstice:
"The Church of Night, like all covens, celebrates the Winter Solstice—the longest night of the year—when families gather around the Yule Fire to sing pagan carols and tell ghost stories. But the holidays are also a time for guests and visitors—both welcome and unwelcome—you never know what might come down the chimney..."
No other details have been released just yet, but it's safe to say we're already creeped out. Series showrunner Roberto Aguirre-Sacasa announced the exciting news on Twitter on November 12th, revealing that the holiday installment will drop on Friday, December 14th.
He also shared this epic Christmas card that shows Sabrina, Harvey, and the rest of the gang posing together on the Spellmans' staircase:
Now, excuse us while we clear some time in our packed December calendar.