Netflix's To All The Boys I've Loved Before will make you cringe so hard remembering your high school crushes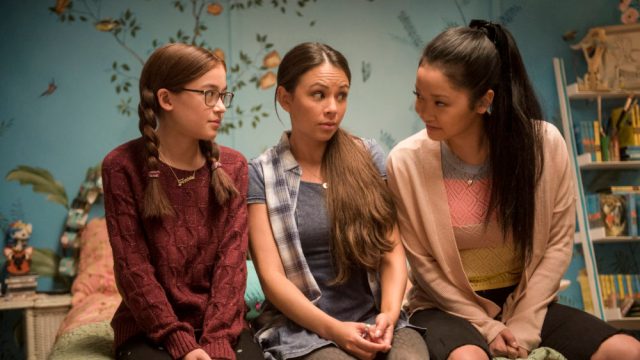 Scribbling a crush's names on the back of a notebook is one of the favorite past times of every teen — we've all been there. We've all lovingly jotted our crush's entire name on every piece of paper we could get ahold of, complete with doodles of hearts, and sometimes even a drawing of our imagined future home together. But we never DARED actually show these tributes to the object of our obsession, because who wants to risk dying of sheer embarrassment?
To All the Boys I've Loved Before's Lara Jean (Lana Condor) feels the exact same way, but her romantic fantasies are all revealed to the boys she liked in secret without her permission. Yikes!
The first teaser for Netflix's adaptation of Jenny Han's bestselling novel of the same name is here, and it shows the cringe-inducing predicament Lara Jean is facing. See, she likes writing letters to all the crushes she's had over the years, without the intention of ever sending them. There's "Peter with the beautiful eyes, Kenny from camp, Lucas from homecoming, John Ambrose from Model UN, and Josh, the boy next door." (And oh no, Josh also happens to be her sister's EX-BOYFRIEND.)
One day, she finds out that her secret letters were sent out to EACH GUY, which causes her to faint, and same. She seeks the help of Peter (Noah Centineo) to deal with the unexpected repercussions and make sense of all the feelings the letters brought about.
Pretty Little Liars star Janel Parrish plays Lara Jean's older sister, Megan, while Odd Squad's Anna Cathcart plays her younger sis, Kitty. You may also be familiar with the actor playing her dad, who just so happens to be John Corbett from Sex and the City. This is already the best cast ever. Susan Johnson directed the film based on a screenplay penned by Man Seeking Woman writer Sofia Alvarez. Oh yes, we love seeing ladies in charge behind the camera.
Watch the trailer below and try not to let your high school nightmares creep up on you:
https://www.youtube.com/watch?v=mTLc_RzqaJc?feature=oembed
To All the Boys I've Loved Before hits Netflix on August 17th.