Netflix has created a Black Lives Matter category after The Help backlash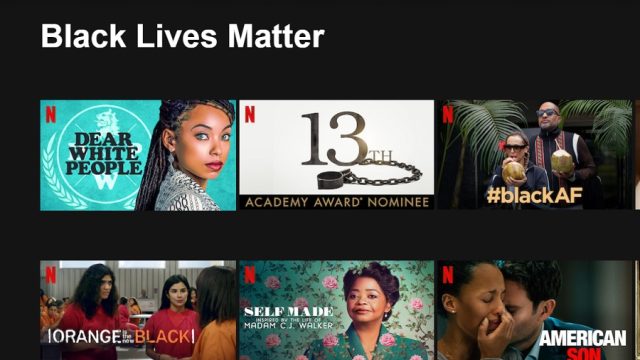 To let viewers more easily find and watch movies and series that more accurately depict "racial injustice and the Black experience in America," Netflix has added a new category to its platform: "Black Lives Matter." The streaming service announced its new genre addition on Wednesday, June 10th, sharing that the new tab will be available on Netflix accounts globally.
"When we say 'Black Lives Matter,' we also mean 'Black storytelling matters,'" Netflix shared on Twitter.
"With an understanding that our commitment to true, systemic change will take time—we're starting by highlighting powerful and complex narratives about the Black experience," it continued in its Twitter statement.
Now when you log into your account, you'll see what Netflix calls a "carefully curated list of titles that only begin to tell the complex and layered stories about racial injustice and Blackness in America."
It seems the new Black Lives Matter category is a permanent addition to the existing genres that Netflix offers, and the list of movies, documentaries, and TV shows by Black creators and about the Black experience so far is solid. We're excited to discover favorites old and new, and we hope the offerings will only continue to expand over time.
The category includes series we already love, like #blackAF, Dear White People, and  Orange Is the New Black; powerful documentaries, including Ava DuVernay's 13thand Michelle Obama's Becoming; and films like Spike Lee's Malcolm X and Barry Jenkins's Oscar-winning Moonlight. Having so many incredible options in one spot will hopefully make it easier for more audiences to find them.
The move seems to come after reports that 2011's The Help had become Netflix's most-viewed movie amid the Black Lives Matter protests.
Viewers seemed to be going to The Help to expand their understanding of racial injustice. But the film's star Bryce Dallas Howard—among other critics and social media users—urged people that there are much better stories about the Black experience in America by Black creators, filmmakers, and actors, for viewers to check out.
https://www.instagram.com/p/CBKNHW9Aq2r
Here's hoping that this addition is only the beginning of a more inclusive entertainment industry that values Black stories and art because it's long, long overdue.