There's a Nescafe coffee shop now, and it comes with a side of humor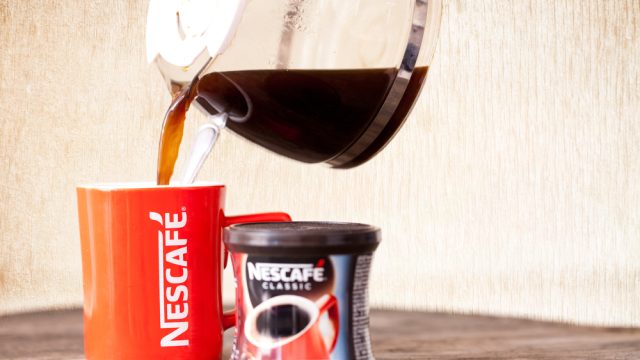 If there's one thing we all have in common, it's the fact that we know the Starbucks experience (before we even step inside a Starbucks). Need we remind you? You peruse the long menu of drinks, spend a little too much time working out if grande means medium, a barista with an impressive man-bun takes your order and eventually your drinks come out. Your cup's marked "Leeza" (when your name is actually Lisa). But hey – at least, it was fast? And, to be honest, the drinks are always delicious. Now, Nescafe is taking a friendly jab at the all-too-familiar Starbucks experience and opening its own pop-up cafe called the Nescafe Taproom.
But, instead of baristas and espresso machines, you bring your own coffee?
Located on the ever-so-trendy Queen Street in Toronto, the Nescafe Taproom requires you to scan your Nescafe sachet on an iPad to gain entry. (That's right. We can't say it enough. You bring your own Nescafe to the cafe!) Once inside, there are hot water taps for you to conjure your instant caffeinated beverage. Self-service is the way to go at this temporary location.  
They even provide cups with horrendously misspelled names (on purpose, of course).
It's meant to remind us of a certain – ahem – cafe experience.
As Eater explains, "Nicole is butchered into "Kneecoal, while Richard becomes "Reacher, and so on.
And if you are planning on visiting the physical location, be sure to check out this nifty video so you know precisely how to access and partake in the Taproom experience.
https://www.youtube.com/watch?v=nUfzv-V81p0?feature=oembed
Now you can enjoy the trappings of a cafe without the…actual trappings? If this sorta thing tickles your fancy, you won't want to miss it. The Nescafe Taproom is open until June 28. 
(H/T Eater)