Grab your sunglasses because bright neon ombré nails are up 904% on Pinterest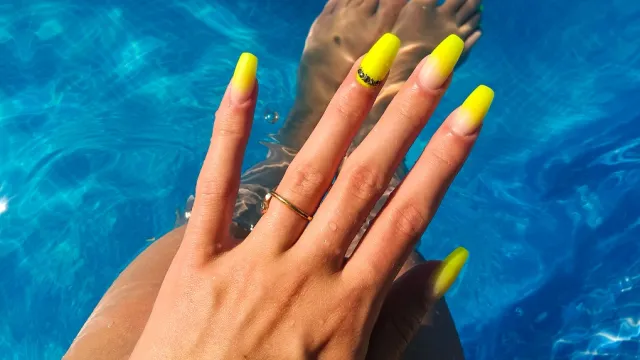 We've been obsessed with all things neon for a while now—from vibrant '80s power suits to Kim Kardashian West matching her neon green hair to her Lamborghini, we pretty much all want to glow in the dark these days. But it seems plenty of us are in the mood for something a bit more subtle yet still bold and bright. Pinterest just released its biggest beauty and fashion trends for July, and while neon dresses, sneakers, and makeup are still trending in a major way, it's actually neon ombré nails that we can't stop pinning these days.
Searches for "bright summer neon nails" are up 131%, but not just any neon nails—neon ombré nails alone have seen a 904% spike, so grab your shades, because this trend is blindingly bright.
Though traditionally spotted on stiletto or coffin-shaped long nails, neon ombré works just as well on a shorter length, and the possibilities for color and embellishment are endless, which is why nail artists all over Instagram are showing off DayGlo-inspired designs lately.
Of course, stiletto nails in highlighter-inspired shades are still super on-point…no pun intended.
We also love this look in a square-shaped coffin nail.
Or for a more low-key look, try neon ombré nails in a shorter length, which look great in any shape, too.
With summer and festival season still in full swing, we see no reason to tone down our manicures anytime soon, and these vibrant neon nails are exactly what we want to stand out all summer long.