This is why cats are having a moment right now in video games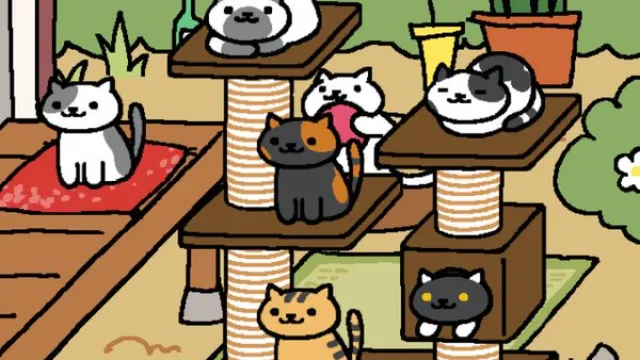 I'm sitting here in the HelloGiggles office, thrilled that a cat named Saint Purrtrick just visited me for the first time. No, he isn't here IRL, but rather, in my "yard "on Neko Atsume: Kitty Collecter, the kitty-collecting app that has taken over the world.
Neko Atsume users collect cats by putting various objects like food, toys, and pillows in their "yard." Once you put out your lures, you close the app and wait. When you open up Neko Atsume sometime later, cats will have appeared in your yard — hopefully! — and you can take screengrabs to send to all your friends. Happy cats leave fish, and you use the fish to buy more goodies to attract more cats, and the cycle goes on and on. (If you're *super* dedicated, you can even buy fish with your real-life cash). If you get lucky, you'll randomly be given mementos by little pixelated kittehs who really love you. This is the entire premise of Neko Atsume — there are no winners, there are no losers.
Neko Atsume first debuted in October of 2014 entirely in Japanese, and an English version hit stores in October of the following year. By May 2015, the game had received over 4 million downloads, and this year, Game Spot named Neko Atsume one of the best mobile games of 2015, calling it "an undoubtedly fun and unique experience." That's all the more amazing when you consider how Neko Atsume's very simple premise can be described by its English translation: Cat Collection.
"[Neko Atsume] is very easy to maneuver. It's designed to be easy to understand — I think even people who don't play video games regularly are enjoying it," the game's developer, Yutaka Takazaki, told CNN. "I believe it was social media that helped it grow. . . to be honest, I don't know why this game is so popular."
And popular it is. Check Twitter, and you'll see hundreds of people tweeting about the app, posting pictures of the cats they've collected. There's even merchandise you can buy showing your love for the kitties of Neko Atsume.
For a game with such a simple premise, Neko Atsume is well on its way to remaining a fixture in our popular culture for some time — perhaps as the first wave in the growing trend of cat-focused video games. Take Catlateral Damage, which debuted on PS4 last month and allows you to play as a "house cat on the rampage," according to creator Chris Chung.
As Chung on the PlayStation Blog, Catlateral Damage is a twist on first-person shooter games, only without human violence. Instead, players only cause playful feline havoc:
Catlateral Damage has an "Objective Mode," which gives some structure with a time limit and an objective.  But there's also "Litterbox Mode," which allows you to play as long as you want. Players can collect upgrades by playing with cat toys, and there are random events that can reward you with power-ups. 
We have to wonder . . . why cats? In a world where any one of us can adopt a cat — or 12 — as a pet in our own home, what makes us so interested in cats in video game form?
"I think cats are sort of this universal language that is understood all around the world," Chung told HelloGiggles in an interview. "They're cute, they do funny things, they exude personality, and lots of people have the pleasure (or displeasure) of living with one. . . Other than the simple fact that it's about cats, people enjoy [Catlateral Damage] because it's a fun little game that makes them happy and doesn't take itself too seriously."
According to one of the lead game designers of app Hungry Babies Mania, Bryant Kongkachandra, our feline friends have the purr-fect personality. (Sorry, we can't resist a cat pun.) "There's something about the personalities of cats that make them so appealing to people," Kongkachandra told HelloGiggles. "Lately, cats seem to be featured in things on the internet going viral more than any other animal, including dogs."
Hungry Babies Mania is a puzzle game with a main objective of feeding baby animals — including kittens and tigers. "Honestly, a game all about cute baby animals would've felt incomplete without cats," Kongkachandra told HelloGiggles. "Their appeal is so strong that it would've been a mistake to exclude cats. . . In fact, the 'tiger cat' [below] ranked highest among the list of animal characters we tested when developing Hungry Babies Mania."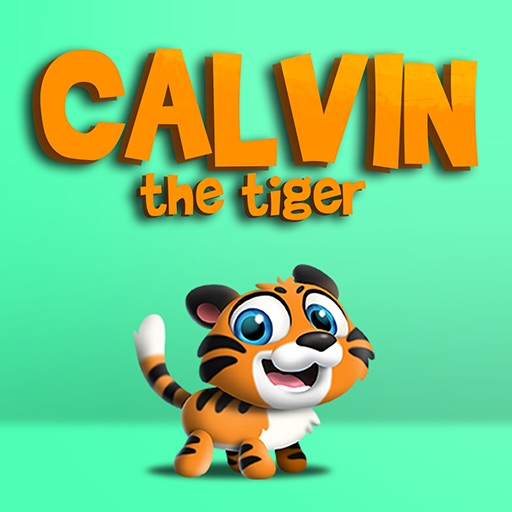 Specifically, Kongkachandra thinks cats are an ideal video game character because of their independence. "That independence gives them a bit of unpredictability and ultimately makes them more interesting than other animals," he told HelloGiggles. "When you watch a video of a dog, the expectation is that it'll do something cute, like eat food or roll over, and more often than not that's what happens. On the other hand, you're never quite sure what a cat is about to do, making them that much more intriguing."
Even in the realm of video game, cats seem to be utterly intriguing. I open back up Neko Atsume, much to my surprise, Tubbs the "special cat" has eaten up all of my sashimi. I take a picture of Tubbs, refill the bowl, claim his fish, purchase more food in hopes that he'll return, and get on with my day, smiling a little bit at the thought of the little fat cat on my phone's screen.