NBC saved Brooklyn Nine-Nine from cancellation, and Twitter is going Full Boyle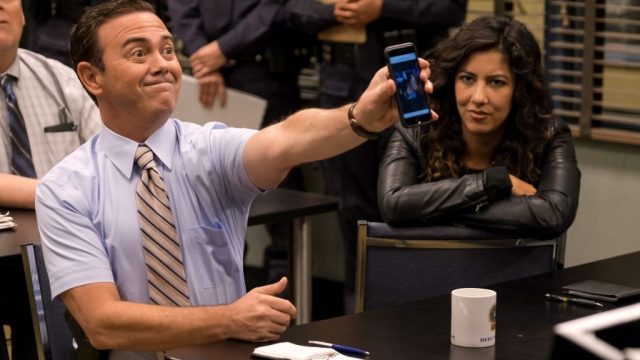 In this cold, unpredictable world, we have learned that solace lies in Brooklyn Nine-Nine. The cast is hysterical. The love between the characters is so sweet it hurts.  And the precinct shenanigans? Forever inspiring. That is why when we found out that NBC was going to save our beloved Brooklyn Nine-Nine after Fox shortsightedly canceled it, we were, to be honest, probably the happiest we have been all year. Do NOT mess with the Nine-Nine and their squad of insane fans.
It was quite the whirlwind 24 hours for the cast, crew, and fans of Brooklyn Nine-Nine. Just as the harsh realities of losing such a beloved show finally set in, it was given back to us. And we'll never take ANYTHING for granted ever again. It's been a brutal few days for TV fans. We learned that shows like Great News, Rise, Quantico, and Lucifer were canceled. So during these trying TV times, we're just glad that we don't have to say goodbye to Brooklyn Nine-Nine yet.
Who might just be even happier than we are? Alllllll of Twitter. Last night, after news broke that the show was moving to NBC, Twitter went absolutely insane. Perhaps nobody was happier than Terry Crews, who plays Terry Jeffords on Brooklyn Nine-Nine. He thanked the fans for the outpouring of support.
Crews went a little nuts on Instagram too, and honestly, we don't blame him.
All of the other Brooklyn Nine-Nine cast members went bananas for the news as well.
Joe Lo Truglio is peak Full Boyle right now.
But nothing compares to how ecstatic Brooklyn Nine-Nine fans are.
https://twitter.com/udfredirect/status/995243786887315457
https://twitter.com/udfredirect/status/995291872594726913
https://twitter.com/udfredirect/status/995220610438615040
https://twitter.com/udfredirect/status/995152105387180032
We can't WAIT to see all of the wonderfulness that Season 6 has in store for us.