Megyn Kelly's show has officially been canceled after her ignorant blackface comments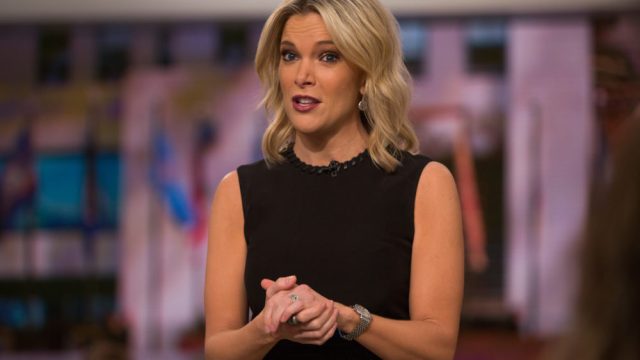 Morning show host Megyn Kelly has been facing outrage and backlash after she questioned why wearing blackface on Halloween is considered racist. And now, NBC has reportedly canceled her show, Megyn Kelly Today.
On the October 23rd episode of her show, Kelly suggested that dressing in blackface was okay on Halloween if someone was dressing as a specific person or character (Kelly seemed to be ignorant to our country's egregious and painful history of all-white minstrel shows that both stereotyped and dehumanized black Americans). Her comments were immediately met with backlash, and she issued an internal apology to her NBC coworkers the same day. On October 24th, the TV host apologized on-air, acknowledging that it was wrong to condone dressing as other races.
"I defended the idea, saying as long as it was respectful and part of the Halloween costume, it seemed okay," she said. "Well, I was wrong and I am sorry."
NBC confirmed on October 26th that Kelly's show was canceled. In a statement, the network simply wrote, "'Megyn Kelly Today' is not returning. Next week, the 9 a.m. hour will be hosted by other 'TODAY' co-anchors." 
Rumors of Kelly's departure had been swirling for days. The New York Times noted that Megyn Kelly Today did not air on October 25th. Instead, NBC played an old, taped episode that began with Kelly wishing the audience a happy Friday. An NBC spokeswoman told CNN Business that she would be on tape through Friday, October 26th. Meanwhile, an unnamed source told the outlet that the cancellation of Megyn Kelly Today was imminent, although details of Kelly's departure had not been finalized.
https://twitter.com/udfredirect/status/1055463462934065152
The Times noted that Creative Artists Agency ceased its representation of Kelly on the 24th. That same day, the House of Cards showrunner canceled a future Kelly appearance on the Netflix series. These reports, coupled with criticism from other NBC News employees, suggested that the end was near for Kelly's show.
Blackface is never okay, and at the end of the day, someone with Kelly's platform and reach should know that. We're glad to see NBC taking a stand.