This holy grail natural hair brand just dropped a new color-safe line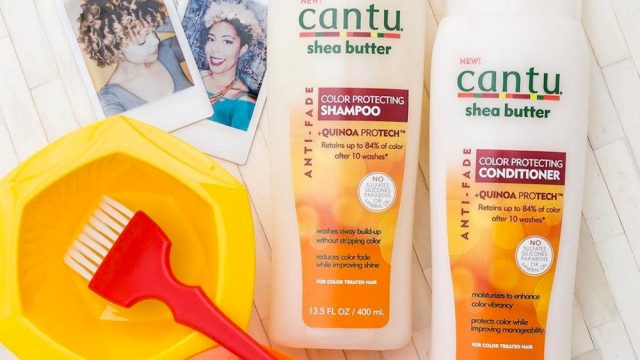 Cantu beauty has earned its crown as one of the best drugstore brands for textured hair. Their super thick Leave-in Conditioning Repair Cream ($6.29, here) smells like heaven and their Twist & Lock Gel ($7.19) is a must for twist-outs.
Cantu just announced a new addition to the family designed specifically for color-treated hair. The new line includes a sulfate-free shampoo ($5.99), conditioner ($5.29), and masque ($5.99) available now in drugstores.
As with all Cantu beauty products, the color-protecting line includes shea butter and a miracle ingredient for curls and coils. The color protecting line goes a step further, using quinoa to lock in color resulting in 84% less fading.
**Fingers crossed the new line has that signature Cantu scent**
While you're cruising the beauty aisle, here are a few other Cantu items to throw into your cart.
Think of this as a next day curl helper. You only need a small amount to jeuge up your 'fro.
This stuff feels so creamy and luxurious you won't wanna wash it off, and the smell is pure paradise.
If you're team co-wash try this little baby, or use Cantu's original rinse out conditioner, both work like a dream and have enough slip to detangle even your most ferocious tangles.
You absolutely can't go wrong with this line and with everything under 10 bucks, you can experiment without breaking the bank.