10 Native Women You Should Have Learned About in History Class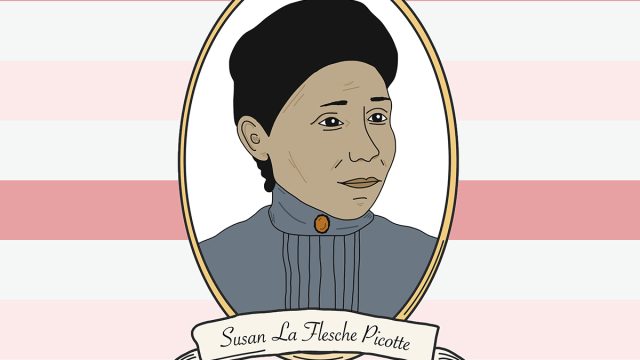 This article was originally written by Stacy Pratt and published March 24th, 2017. It has since been expanded with new reporting by Kitty Lindsay.
Throughout history, Native American women have always served as leaders, healers, artists—and anything else they wanted to be. But you wouldn't know it from reading most history textbooks. Typically, only Pocahontas and Sacajawea are discussed, and all too often their stories take a supporting role to dominating white male narratives. And if you think Native American Heritage Month in November will fill in the gaps left by our inadequate American educational system, think again. (Not to mention, this time of year can actually be very complicated for Native people.)
That's why this Indigenous Peoples' Day, celebrated on October 12th, we're brushing up on our Native women know-how and honoring the Indigenous women who've changed the world and continue to inspire others—Native and non-Native alike—to keep making history. Take U.S. Representatives Sharice Davids and Deb Haaland, for example. Or Standing Rock's Anna Lee Rain Yellowhammer, who sparked the #NoDAPL movement back in 2016 and even provided its slogan: "Mni wiconi" or "Water is life." Native women don't just need a page in our U.S. history textbooks, or even a chapter. They need the whole book, and then some.
But for now, here's a (very) short list of 10 historical Native women you need to know.
1. Lyda Conley (1869-1946)
One of the first female Native attorneys, Eliza Burton "Lyda" Conley graduated from Kansas City School of Law in 1902 and became the first woman admitted to the Kansas bar.
According to the Women's Museum of California, the sale of the Wyandot Nation's sacred Kansas burial ground to the U.S. federal government in 1906 upset Conley, who was a member of the tribe. So she and her sisters launched a campaign to protect and preserve the Huron Cemetery in Kansas City, where many of their own ancestors were laid to rest. They took up camp just outside the cemetery, took turns standing guard with muskets drawn, and put up signs that read "Trespassers, Beware!" to prevent the sale of the land.
Conley stood her ground for years. And in 1909, her fight to protect her tribe's sacred land went all the way to the U.S. Supreme Court. That year, she put her legal skills to work and became the only third woman, the second female attorney, and the first Native American woman to argue a case in front of the Supreme Court. Many believe her case, in which she argued that Native American burial grounds were entitled to federal protection, was the first of its kind, too.
Sadly, the Supreme Court dismissed Conley's case. But nevertheless, she persisted, and in 1916, the cemetery was designated a federal park. Today, the cemetery—renamed Wyandot National Burial Ground—enjoys National Historic Landmark status. Conley was laid to rest in the cemetery following her death in 1946.
2. Wilma Mankiller (1945-2010)
https://www.instagram.com/p/BNJRaKplltR
A citizen of the Cherokee Nation, Wilma Mankiller was born in Tahlequah, Oklahoma in 1945. When she was 11 years old, the Bureau of Indian Affairs Relocation Program moved Mankiller and her family from their rural ancestral home in Oklahoma to San Francisco, California. As a teenager, she became involved in San Francisco's Indian Center, assisted and supported the Black Panther Party in its early days, and found activist inspiration in Native American students' occupation and attempted reclamation of Alcatraz Island.
Mankiller returned to Oklahoma in 1977, and promptly initiated a number of community development projects to benefit her Cherokee neighbors. In 1983, she became deputy principal chief of the Cherokee Nation, based on the strength of her community leadership. And two years later, when the principal chief resigned, Mankiller became the first female principal chief of the modern Cherokee Nation. She served 10 years in the role, governing the second largest tribe in the United States. Among her change-making contributions as chief? Tribal enrollment tripled, employment doubled, infant mortality declined, and educational achievement rose, according to The Wilma Mankiller Foundation.
Mankiller left public office in 1995. In 1998, she was awarded the Presidential Medal of Freedom.
"I hope that when I leave, it will just be said: I did what I could," Mankiller once said.
Today, The Wilma Mankiller Foundation works with Indigenous communities to carry on Mankiller's legacy of social justice and development in Indian Country and beyond.
3. Buffalo Calf Road Woman (unknown-1879)
https://www.instagram.com/p/BdnA2lYht4q
We all remember the story of "Custer's Last Stand" from history class. But do you know about Buffalo Calf Road Woman and her courageous contribution to Custer's defeat?
As Mental Floss reports, back in 1876, the U.S. government set out to force Sioux tribes onto reservations and claim a swath of their land in Montana Territory. But Native American tribes in the area—including the Lakota Sioux, the Northern Cheyenne, and the Arapaho—were having none of it. So in defense of their land, Northern Plains Native Americans faced off with U.S. troops along the Little Bighorn River in a bloody battle that ended in some 260 U.S. soldiers dead, including Lieutenant Colonel George Custer. And the United States's defeat at the Battle of Bighorn went down in history as the most successful action fought by Native Americans against the U.S. Army in the West.
But according to tribal oral history, it was Buffalo Calf Road Woman, a Northern Cheyenne woman, who delivered the final crushing blow. Though the exact details of Custer's demise—and Buffalo Calf Road Woman's role in it—remain unclear, Cheyenne elders claim Buffalo Calf Road Woman knocked Custer off his horse, leaving him vulnerable, and may have even killed him.
Buffalo Calf Road Woman's act of bravery comes as little surprise to those who know Native American history. Just one week prior to the Battle of Little Bighorn, Buffalo Calf Road Woman saved the day (for the first time) at the Battle of the Rosebud, when she charged on horseback into a melee of gunfire to rescue her brother from imminent death. After that, the Battle of the Rosebud became known as the "Battle Where The Girl Saved Her Brother" among the Cheyenne.
4. Zitkala-Sa (1876-1938)
Born in 1876, writer, musician, and activist Gertrude Simmons grew up on the Yankton Indian Reservation in South Dakota. The daughter of a Yankton Sioux mother and white father, Zitkala-Sa lived within the Sioux culture until 1884. Then, at 8 years old, Simmons went off to the White Indiana Manual Labor Institute in Indiana, where her Native American heritage was systematically stripped away and her traditionally long hair was cut.
As a teen, Simmons changed her name to Zitkala-Sa (which means "Red Bird" in Lakota). She pursued higher education at Indiana's Earlham University and later, studied music at the New England Conservatory of Music in Massachusetts. At that time, educational opportunities for women were few, especially for Native women, and according to Brittanica, Zitkala-Sa struggled to feel at home among her mostly white, male counterparts. So she wrote about her experience as a Native woman in education, and became known for her powerful critiques of the forced cultural assimilation of Native Americans in autobiographical articles like "Impressions of an Indian Childhood" and "School Days of an Indian Girl," both published by the Atlantic Monthly.
Zitkala-Sa wrote books, too, including Old Indian Legends, an anthology of Dakota fables, and American Indian Stories, a collection of autobiographical essays, allegorical fictions, and a passionate call-to-action for greater understanding of Native American cultures.
In 1926, Zitkala-Sa (then known by her married name Gertrude Boonin) founded the National Council of American Indians, an organization that advocated for citizenship rights, educational opportunities, improved health care, and cultural recognition and preservation. Boonin served as the organization's president until her death in 1938.
5. Elizabeth Wanamaker Peratrovich (1911-1958)
https://www.instagram.com/p/Ba-LK3IltBK
Elizabeth Wanamaker Peratrovich and her husband just wanted their children to have more opportunities in life, so the Alaska Natives—both Tlingit—moved from the small town of Klawock to the state capital of Juneau. But according to Indian Country Today, they found Native people were not welcome there. In addition to being unable to own homes in nice neighborhoods, or to enroll their children in public schools, Native people encountered "No Natives Allowed" signs almost everywhere they went and were kept out of many public spaces, including some hotels, restaurants, and movie theaters.
Called to action, Peratrovich petitioned Alaska Governor Ernest Gruening to introduce the Anti-Discrimination Act of 1945. The first of its kind in an American territory or state, the groundbreaking law prohibited discrimination in public accommodations and facilities. Peratrovich also played a critical role in the law's passage, providing powerful testimony before the State Senate at a hearing to determine the legislation's fate.
"Who are these people, barely out of savagery, who want to associate with us whites, with 5,000 years of recorded civilization behind us?," Senator Allan Shattuck, who opposed the law's passage, asked early on in the hearing.
Peratrovich's response? "I would not have expected that I, who am barely out of savagery, would have to remind a gentlemen with 5,000 years of recorded civilization behind them, of our Bill of Rights."
The bill passed 11 to 5 on February 8, 1945. Today, Alaska celebrates Peratrovich's (aka "fighter in velvet gloves") contribution to Native equality every February 16th, "Elizabeth Peratrovich Day." And earlier this year, the U.S. Mint honored her civil rights legacy by putting her face on a commemorative one dollar coin.
6. Susan La Flesche Picotte (1865-1915)
https://www.instagram.com/p/Bd-8whjnaX0
At just 8 years old, Omaha tribe member Susan La Flesche sat at the bedside of a sick elderly woman and waited all night for a physician to arrive and tend to her, per History.com. By the time dawn broke, the woman was dead, and the message delivered by the doctor's absence was clear: Native Americans don't matter.
So, La Flesche, born and raised on the Omaha Indian Reservation, made it her mission to care for the members of her tribe. She was educated at a Native American boarding school and earned her M.D. from the Women's Medical College of Pennsylvania, becoming the first Native American woman doctor in history. Then, she returned home where she worked tirelessly to serve more than 1,300 patients (both white and non-white) over 450 square miles.
La Flesche married Henry Picotte, a Sioux Indian from South Dakota, in 1894, and later opened a private practice. In addition to providing critical health care to her community, she also advocated for modern hygiene practices and disease prevention standards among the Omaha people. In 1913, Picotte opened a hospital near Walthill, Nebraska, the first to be built on reservation land without any support from the federal government. The facility served all people, regardless of skin color. Now known as the Susan La Flesche Picotte Center, it was named a National Historic Landmark in 1993.
7. Annie Dodge Wauneka (1910-1997)
https://www.instagram.com/p/BbxyrfQlks2
Just like Susan La Flesche Picotte before her, Annie Dodge Wauneka decided to become a public health advocate after witnessing a tragic event unfold within her tribe. Wauneka was only eight and attending a government-run school on a Navajo reservation when an influenza epidemic struck and wiped out thousands of Navajos and their children, including some of Wauneka's classmates.
Inspired to make change in her community, Wauneka worked tirelessly to improve health and welfare for the Navajo people during her adult life. Having observed firsthand the poverty and disease that plagued the Navajo during her travels through Navajo territory with her father (a chief and Navajo Tribal Council president), Wauneka studied public health before joining the Navajo Tribal Council herself. During her three terms (nearly 30 years!) in office, Wauneka served as the chairwoman of the health committee. She also improved care for pregnant women and babies, made quality regular eye and ear examinations the norm, and improved treatment for alcoholism. She even created an English-Navajo dictionary to help define modern health care practices—like vaccinations—for non English-speaking Navajos. And she hosted weekly radio broadcasts (in Navajo) to deliver details of modern medical advancements to her people.
In recognition of her remarkable contributions, Wauneka was awarded the Presidential Medal of Freedom in 1963, the first Native American to receive the prestigious honor. The Navajo Tribal Council officially named her "The Legendary Mother of the Navajo Nation" in 1984.
8. Mary Golda Ross (1908-2008)
https://www.instagram.com/p/BmPppuWHQJ4
Born in 1908, math whiz Mary Golda Ross grew up in Park Hill, Oklahoma, the great-great granddaughter of Cherokee Chief John Ross. After completing her undergraduate degree in mathematics at the Northeastern State Teacher's College, Ross taught math and science in rural Oklahoma, and even worked as a statistician for the Bureau of Indian Affairs.
But Ross not only had numbers in her head—she had stars in her eyes, too. And so she returned to school and earned her Master's degree in astronomy at the Colorado State College of Education (now known as Northern Colorado University). From there, her career skyrocketed, and in 1942, she joined Lockheed Martin Aircraft Corporation as one of only a handful of women mathematicians. There, Ross worked primarily on military aircraft, and helped design the Lockheed P-38 Lightning, a fighter plane that came close to breaking the sound barrier.
Six years later, Ross was one of only 40 engineers (and the sole woman) selected to join Lockheed Martin's new Missiles Systems Division (aka Skunk Works), the company's top-secret think tank that paved the way for space travel. Much of her writing and research for Skunk Works still remains classified, but you can read up on the nuts and bolts of space travel in NASA's Planetary Flight Handbook, which she helped write, too.
After retiring from Lockheed Martin at 65, Ross made it her mission to encourage young women and Native Americans to pursue careers in math, science, and engineering, delivering lectures at high schools and colleges. She died in 2008, and bequeathed more than $40,000 to the Smithsonian Museum of the American Indian in Washington, D.C. to help tell the ongoing story of the Native American people.
9. Maria Tallchief (1925-2013)
https://twitter.com/udfredirect/status/841532725467217920
Born in a town on an Osage reservation in Oklahoma, Maria Tallchief (née Elizabeth Marie Tall Chief) leapt her way to the tippy top of ballet superstardom as New York City Ballet's prima ballerina. But before she originated roles in some of the dance world's most well-known and beloved ballets (including the titular role in Firebird and the Sugar Plum Fairy in The Nutcracker, both choreographed by George Balanchine), Tallchief faced discrimination as a Native American ballerina in an almost all-white profession. Per Womenshistory.org, She went from ballet company to ballet company looking for work, but was turned away because of her Native American ancestry. Many even urged her to change her last name because it gave away her Native identity.
But Tallchief refused. And in the end, she rose above it all. In addition to becoming Balanchine's muse and America's first major prima ballerina (and America's first Native American prima ballerina, to boot), Tallchief also became the first American ballerina to dance with the Paris Opera Ballet in France and the first American to perform at the world-renown Bolshoi Theater in Moscow.
Tallchief received a Kennedy Center Honor for lifetime achievements in 1996. That same year, she was also inducted into the National Women's Hall of Fame.
10. Suzan Shown Harjo (1945-present)
https://www.instagram.com/p/Bbvs4F-Dp_l
You may recognize Suzan Shown Harjo as the force of nature behind the public campaign—and legal action—to compel the Washington Redskins football team to drop their deeply offensive name and mascot (which they finally did in 2020). But that's only Harjo's most recent fight. The poet, writer, lecturer, curator, and policy advocate has worked tirelessly for more than four decades to take on the urgent issues impacting the everyday lives of Indigenous Americans.
Back in the 1960s, Harjo, who is Cheyenne and Muscogee, co-produced the first Native American news program in the United States: Seeing Red, for New York's WBAI FM station. In 1967, after taking in an installation of sacred garments at the Museum of the American Indian in New York, Harjo advocated for the return of such items to their rightful tribes and helped change museums' policies dealing with Native peoples and Native artifacts nationwide. And in the 1970s, while living in Washington, D.C., she served as a legislative liaison for law firms that fought for Native American rights.
But that's not all. In 1978, then-President Jimmy Carter appointed Harjo as a congressional liaison for Indian affairs. That same year, she lobbied hard and helped pass the American Indian Religious Freedom Act (AIRFA). And in the 1980s, she served as executive director of the National Congress of American Indians (NCAI) and founded the Morning Star Institute, a Native rights organization for traditional and cultural advocacy.
Did we mention she received the Presidential Medal of Freedom in 2014? Incredible.