The U.S. women's soccer just team filed a lawsuit for pay equality—on International Women's Day, no less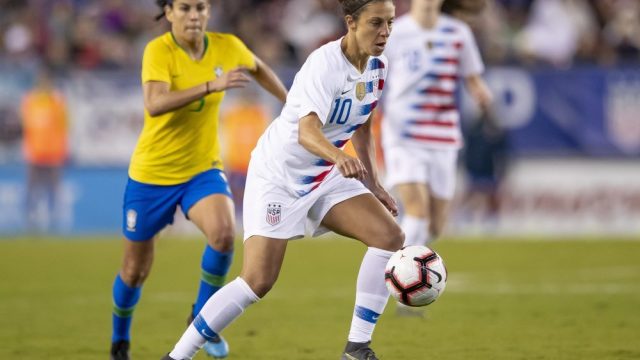 No matter what industry women work in, or how prestigious their jobs are, the gender wage gap persists. It's a struggle that actresses, teachers, lawyers, and retail workers (to name just a few) all deal with, and while things are getting better, they're not changing fast enough. But now, the members of the U.S. women's soccer team are filing a lawsuit over pay discrimination.
The New York Times reports that all 28 players on the women's soccer team filed the suit against the U.S. Soccer Federation (USSF) today, March 8th (International Women's Day, no less). The athletes are seeking class action status, and any player who has been part of the team since February 4th, 2015 is being encouraged to join the suit. The Times notes that they're requesting back pay, damages, and adjustments to their salaries.
In the suit, which was filed in the U.S. District Court in Los Angeles and obtained by The Times, the women allege years of "institutionalized gender discrimination." They claim that even when the women's team earned more money and won more championships, members of the men's team received higher salaries.
"The USSF, in fact, has admitted that it pays its female player employees less than its male player employees and has gone so far as to claim that 'market realities are such that the women do not deserve to be paid equally to the men,'" the suit states.
In addition to pay disparity, the female players also claim that the women's team and men's team are treated differently by the USSF. For instance, the women's team has to fly on commercial flights more often than the men's team does, and the suit also alleges that the USSF routinely spends less to promote women's soccer games.
This isn't the first time women's soccer players have called out their governing body for pay discrimination. According to ESPN, in 2016, five members of the women's team filed a complaint against the USSF with the Equal Employment Opportunity Commission (EEOC). They alleged that, although the U.S. women's team earned nearly $20 million more than the men's team in 2015, female players only received about 25% of what male players did. In August 2018, one of the players who filed the EEOC complaint, former goalkeeper Hope Solo, wrote on her website that she was filing her own pay discrimination lawsuit against the USSF.
Regardless of what happens with this suit, it's a huge step in the fight for equal pay. We applaud these courageous athletes for taking action against pay inequality, and we hope this leads to the compensation they deserve.