Today is National Tortilla Chip Day, so we're celebrating with dessert nachos
It is National Tortilla Chip Day. Ah, the glory of all the food holidays out there. They give me the excuse to gobble more of my favorite snacks. And there is more to do with tortilla chips than just dip them. Not that dips aren't super duper.
Allow me to introduce you to dessert nachos. You are going to make your own cinnamon-sugar chips. It's perilously easy. Get yourself some plain flour tortillas. Heat your oven to about 350 degrees Fahrenheit. Chop your tortillas into whatever chip configuration you prefer. I cut mine into about 6 wedges. Brush your tortillas with butter on both sides. Put them in a single layer on a nonstick baking sheet (I like to cover mine with nonstick foil). Sprinkle the top side with cinnamon and sugar and bake until crisp. It shouldn't take too long, just keep an eye on them.
Then top them! I used vanilla ice cream, orange sherbet, caramel sauce, chocolate sauce, then some good ol' Redi-Wip (yes I know I am tragic but I love that stuff), then I really went for the gold and added a cherry and more of the cinnamon-sugar chips. It is so delightful. Please try it.
Ideas for those of you who prefer traditional savory chips?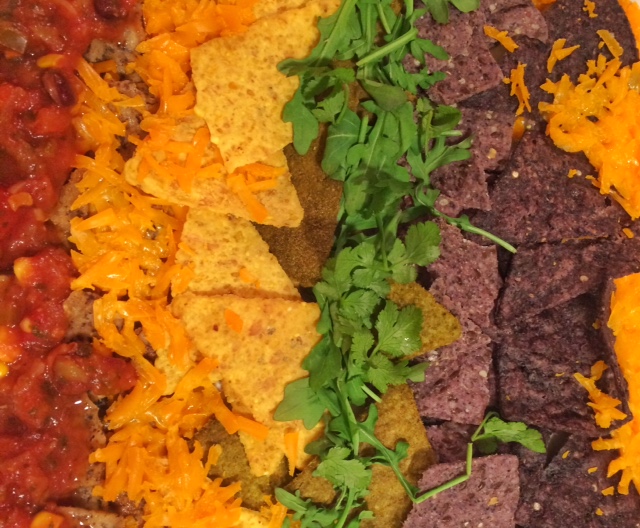 [stylized_links related_links="%3Cp%3EIf%20you%20do%20want%20to%20dip%20your%20chip%2C%20here%20is%20a%20%3Ca%20href%3D%22https%3A%2F%2Fhellogiggles.local.devgo.vip%2Fvegans-lets-make-beet-dip%2F%22%3Evegan%20one%3C%2Fa%3E%21%3C%2Fp%3E%3Cp%3ENo%20taco%20shells%20and%20you%20need%20%3Ca%20href%3D%22https%3A%2F%2Fhellogiggles.local.devgo.vip%2Fwhip-vegetarian-tacos%2F%22%3Etacos%3C%2Fa%3E%3F%20Just%20pile%20toppings%20on%20the%20chips%20and%20get%20a%20fork.%20It%E2%80%99s%20not%20portable%2C%20but%20definitely%20edible.%3C%2Fp%3E%3Cp%3EEver%20heard%20of%20%3Ca%20href%3D%22http%3A%2F%2Fwww.bonappetit.com%2Frecipe%2Fchilaquiles-with-fried-eggs%22%3Echilaquiles%3C%2Fa%3E%3F%20They%20are%20tortillas%20cooked%20in%20a%20spicy%20tomato%20sauce%20and%20topped%20with%20everything%20from%20cheese%20to%20fried%20eggs.%20Good%20stuff.%3C%2Fp%3E" /]
Those ideas should keep you busy for a while. Happy eating!