The first-ever National Period Day aims to cancel the tampon tax, and you can join the movement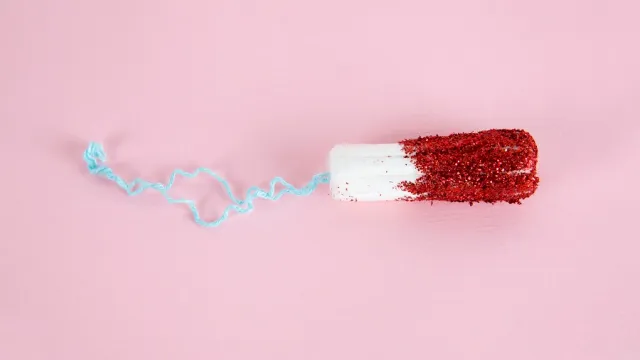 If you believe that menstrual hygiene and access to period products are a right and not a privilege (ahem, everyone should be raising their hands), then you need to circle October 19th on your calendar. The date, this Saturday, marks the first-ever National Period Day, which aims to raise awareness about period poverty and eliminate the tampon tax. Consider our rally signs already written and glittered.
National Period Day is championed by nonprofit "menstrual movement" PERIOD. Two high school students, Nadya Okamoto and Vincent Forand, co-founded PERIOD in 2014 as a way to end period poverty and stigma through service, education, and advocacy, according to its website. As a teen, Okamoto struggled with homelessness and found that access to period products was a difficult and often overlooked obstacle of her situation.
Now, Okamoto and the Menstrual Movement Coalition—which includes companies and organizations like Planned Parenthood, the Women's March, Tampax, Thinx, and Always—aim to make these products more accessible to menstruators of all income levels.
What does period poverty mean, and what exactly is the tampon tax?
Almost two-thirds, 64%, of low-income women can't afford period products, such as tampons or pads, according to a city-wide survey. One in five of those women said that they had this problem every single month. In the same survey, 46% said they had to choose between purchasing period products or a meal.
Here in the U.S., one in five girls reports missing school due to a lack of access to these products.
Moreover, 35 states still charge a sales tax on period products, which means that the governing bodies of each of these states consider tampons, pads, menstrual cups, and similar products to be "non-essential."
PERIOD released a PSA about these issues that revolts against the idea that period products are non-essential. If someone was bleeding literally anywhere else, it asks, would we ignore it?
Here's how you can get involved in National Period Day.
There will be at least one rally in each of the 50 states this Saturday, October 19th. Visit Period.org to find the time and location of the closest rally to you, and then RSVP via Facebook or Action Network event pages. Then, all you have to do is show up (with your best sign, of course)!
Rallies are inclusive; people of all genders, menstruators and non-menstruators alike, are welcome to attend.
You can also sign the petition to end period poverty and fight for change on a national level. The petition calls for two specific actions, according to the website:
Clean and healthy period products to be freely accessible in schools, shelters, and prisons
Eliminate the tampon tax to exempt period products from the sales tax.
Circle October 19th on your calendar, and grab your friends to hit the rally in your state. Period poverty is real, and it's time to fight for change so all menstruators have the dignity of access to clean, affordable period products.