For National Men's Grooming Day, 16 product recommendations from our Senior Beauty Editor's husband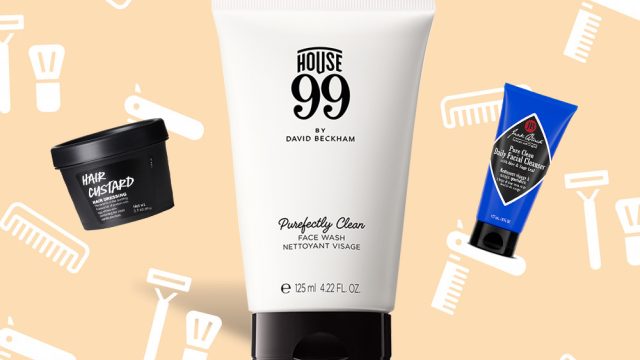 In between birthdays, Father's Day, and Christmas, there haven't been too many opportunities to gift someone men's beauty products. That was until the weird holiday gods took it upon themselves to create one specifically for men's grooming. If we're celebrating special days for everything from lipstick to being left-handed, why not one for beard balm and those who love to use it?
In recent years, men's grooming brands have exploded with more brands and enough products to cause some drama in a shared bathroom cabinet. Whether the male-identifying person in your life has a beard care collection they're proud of, or needs some recommendations to get their skin in tip-top shape, we've got you covered.
To celebrate National Men's Grooming Day, I asked my husband Jimmy, a man who treats his beard as a sentient being, to talk to us about his favorite men's grooming products, including his empties. It was hard to narrow down, as his #shelfie can rival my own now. (This is only one part of his products. Like me, he has multiple product shelves.)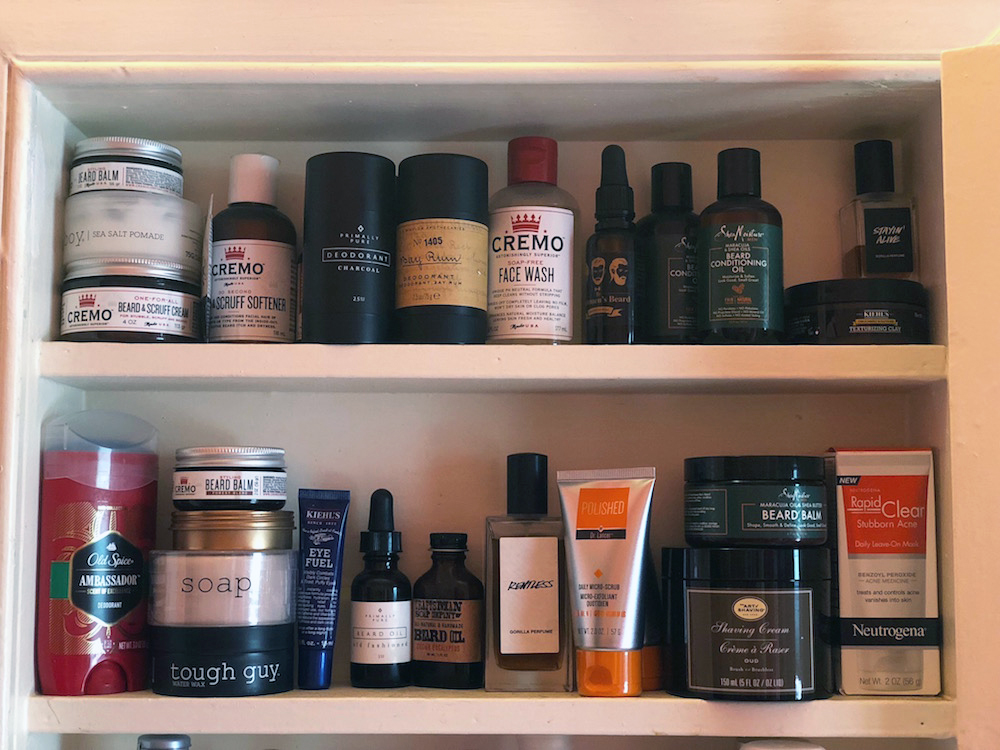 Here are 16 must-have men's grooming products, from a beard brush to rum-scented deodorant.
1Kiehl's Eye Fuel
Ever since he overheard a podcast I was listening to where the hosts talked about eye cream as a super-powered moisturizer, eye creams, like Kiehl's Eye Fuel, have become Jimmy's newest obsession. "They said that Zac Efron uses it all over his face, so I'm going to put that shit all over my face and look 20 years younger," Jimmy says.
2Lush Lemony Butter
Jimmy has become a true Lushie in recent months. "I had dry, cracked goblin feet that were at the point where it hurt to put your jeans and socks on." Lemony Flutter has been a lifesaver for my dude. "By the second time I used it, my feet went back to normal," he said, but that's not all. "My theory is if it's that powerful and could fix dry, cracked feet overnight, if I put it on my face, I'll look like Zac Efron." (Not sure what's going on with this obsession with Zac Efron.)
3Original by Stetson Cologne
Stetson may be a cologne that everyone's dad used to wear, but it's modern winner in Jimmy's eyes. "It has a reliable, classic smell," he says. "It reminds me of the '80s, but still works."
4Lush Smugglers Soul Perfume
This is an emotional product for Jimmy, due to the discontinuation of Lush's beloved facial scrub. "RIP Smuggler's Soul Facial Scrub. Friendship with Smuggler's Soul Cologne has begun," he proclaims. "When I used the facial scrub, part of what I loved about it was the smell. If I had to choose one scent for the rest of my life, that would be it."
5Big Boy Soothing Drops
This was a sore subject because Jimmy dropped it and it broke. He still longs for it. "It gives texture and depth, and has the most amazing fucking smell," he says. "I would wear it as a cologne. It's the opposite of a beard oil because it doesn't give a sheen, but still makes everything smooth."
6Cremo Premium Beard Brush
"I have curls and a flare to my beard, so when you use this kind of beard brush with the thick brustles, it tames it," Jimmy says. "There are no stray hairs sticking out. And the brush is good even without product. It's a must for any beard." While you can use this brush alone without product, he uses it with two other Cremo products for a triple threat-type of vibe.
7Cremo One-For-All Beard and Scruff Cream
"If I fall asleep and my beard loses its puff, or essence, I take a little bit of this, rub it in, and it kicks my beard in its ass and gets it back to presentable," he explains. There's a magic combo he turns to: The Beard and Scruff Cream helps get you the shape you want, while the Beard Balm keeps all the hair down. "One gives the shape and one gives the hold," he says.
8Kiehl's Facial Fuel
My mom gifted Jimmy this Kiehl's face wash for Christmas and he's loved it ever since. "It's better than splashing cold water on your face," he says. "It wakes you up so it's perfect first thing in the morning. That's why I barely use it. I don't want to run out."
9Lush Hair Custard
Finding the right hair product is a big deal for Jimmy. "It has a light hold and it doesn't look like you're wearing product," he says about Hair Custard, adding, "And it smells de-licious."
10Jack Black Pure Clean Daily Facial Cleanser
This is another facial cleanser Jimmy swears by: "I really love the way this smells and how it makes my skin feel afterwards—not dry or irritating, even though I sometimes have sensitive skin."
11Fatboy Spray Putty
Jimmy's go-to for hairstyling had been Fatboy Perfect Putty, but he ran out of it and started using this. "I've never gotten this much texture from something I sprayed on my hair before," he says.
12Polished by Dr. Lancer Daily Micro-Scrub
One of Jimmy's empties, this Dr. Lancer exfoliant was what he used after he ran out of Smuggler's Soul. "It's helped with making my skin feel smooth."
13House 99 Purefectly Clean Face Wash
Jimmy loves a good tingly face wash, and this one from David Beckham's skin care line has exotic ingredients like charcoal powder and peppermint extract.
14Old Spice Forge Putty
This was Jimmy's hair product of choice for years due to its great price point, and the "disheveled look," as it says on the tub. "I went through so many products and brands looking for a good hair product, and when I finally found this one it was perfect," he says. "It makes my hair look exactly as how I want to look: Grunge 2018."
15Jack Black Turbo Wash Energizing Cleanser
Jimmy loves this invigorating body wash. "The smell wakes you up, and when it hits your skin, it tingles," he says.
16CO Bigelow Bay Rum Deodorant
Another one of Jimmy's #empties, this stick deodorant reminds him of a "cool, night rum." He says, "It's the kind of thing I'd wear to that rooftop bar we went to. It goes well with black leather." After he finished his first stick, he put this one aside for "special occasions."