How to get free food on National Fast Food Day, because it's Fry-day and nothing sounds better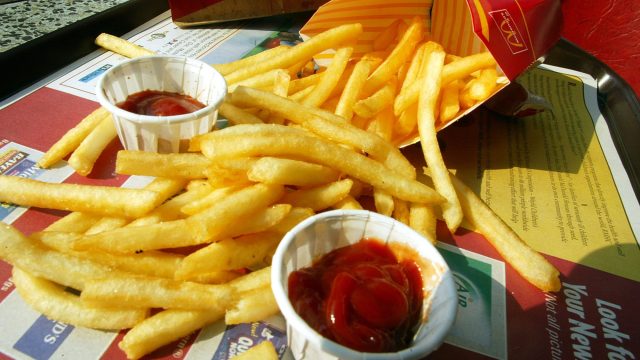 These days, people often lament that "there's a 'day' for everything." Considering we just passed National Pickle Day on November 14th, that could be true. But sometimes these special days come with special deals. Friday, November 16th is National Fast Food Day, and these deals will make you feel so grateful that the U.S. celebrates almost every ingredient and food type.
It's one thing to have a National Pizza Day—which falls on February 9th—but it's a totally different situation when a "national food" day celebrates so many different types of food. You can celebrate National Fast Food Day with burgers, chicken strips, french fries, Mc-anything, really. And even though fast food usually comes at a reasonable price, you don't want to miss the deals that some of your favorite fast food stops are hosting.
Now is not the time to worry about whether these supposed holidays are real or not. Now is the time to take advantage of the free or discounted foods that you might be able to indulge in tonight.
1 Jack in the Box
From November 16th to 18th, Jack in the Box will give you a free order of medium curly fries with the purchase of a large beverage. To get the offer, sign up for the deals newsletter.
2 Hardee's
Rather than a traditional deal, Hardee's is holding a National Fast Food Day photo contest. Post a picture of yourself holding the chain's chicken tenders on Twitter and tag @Hardees along with the words "Hardee's 2018 National Fast Food Day Photo Contest." You can win a $500 gift card.
3 Wendy's
false
From today through November 23rd, Wendy's is offering a free Junior Bacon Cheeseburger with purchase, but you have to use the Wendy's app.
4 Not a deal but a fun celebration: Carl's Jr.
Carl's Jr. isn't holding a giveaway, but it's partnering with Daniel Cormier to let fans choose who the UFC fighter will compete against.
5 McDonald's
https://www.instagram.com/p/BWfsINRloz_
On the 16th, you'll be able to get an order of medium or small fries for only $1 by using the McDonald's app. If anyone opts for a small over medium size, they might not deserve the deal, though.
This might just be the best day of the year
With National Fast Food Day deals happening less than a week before Thanksgiving, 2018 is going out with a burg.