It's National Creamsicle Day and these are the dreamiest versions we can find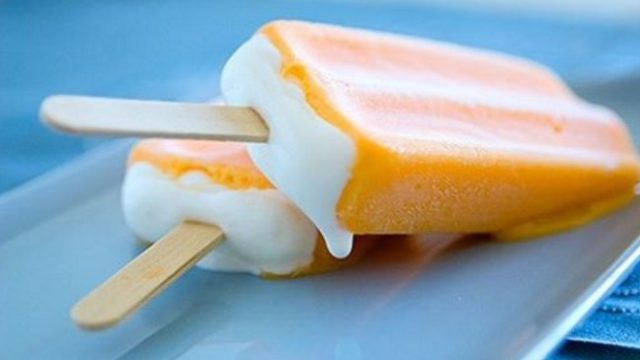 It's National Creamsicle Day, and what are you doing to celebrate?
https://www.instagram.com/p/BJFyxEODhJG
I know what you're thinking — isn't every day National Creamsicle Day?! It can be if you want it to be. Who can resist that vanilla-y creamy goodness and orange ice?
And, after seeing all the Creamsicle-esque treats you can make, we just may need every day to try them all out.
Maybe we'll start small, with a good old orange Creamsicle by Unilever (you know, the same folks that have brought us Fudgsicles and Popsicles and have made our lives a whole lot ~sweeter~ as a result). Or perhaps a raspberry (!) or blueberry (!) one…or all three!
Or maybe we'll try creating a Creamsicle cheesecake.
https://www.instagram.com/p/BJEzDMrAU1P
Or bite into a Creamsicle donut.
Or maybe cupcakes are more your thing.
https://www.instagram.com/p/6n9R4Ghh6X
You can even two-tone the frosting in Creamsicle perfection.
Or try different kinds of Creamsicle cupcakes.
https://www.instagram.com/p/BIHn3_eDJD2
Or make a Creamsicle smoothie. (Who said Creamsicles can't be healthy?!)
Afterwards, we'll wash it all down with a Creamsicle martini — aka an Orange Julius Fizz.
Or this ice cream-y version.
https://www.instagram.com/p/rCzvDmxhg6
Or maybe we'll make our own and have a DIY Creamsicle Party — aka Best. Party. Ever.
https://www.instagram.com/p/BJFz5GYgmnS
(Although, somehow I don't think our DIY Creamsicles will look as perfect as this picture.)
Punchbowl has a pretty perfect recipe for a DIY Creamsicle. They combine fruit juice (the flavor possibilities are endless!) and vanilla ice cream, then gradually add milk and keep on mixing. Then, pour the combo into small paper cups and freeze. When they're partially frozen, add popsicle sticks into the cups, then freeze some more. Y-U-M!
Wherever you are and whatever you make, Happy National Creamsicle Day, from our Creamsicles to yours!