Nathan Fillion had a fanboy freakout about "The Hunger Games"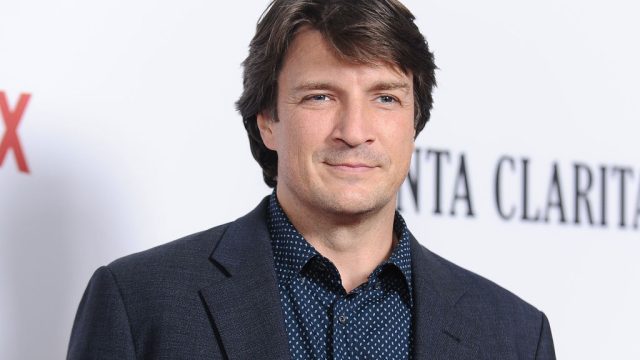 Sometimes it's hard to play it cool when you get to hang out with an actor from a movie you're obsessed with. It doesn't matter if you're a celebrity or a mere mortal, it's always exciting. So when actor Nathan Fillion had a fanboy freakout with Stanley Tucci, we totally get where he's coming from.
You might remember Tucci from a teeny tiny film called The Hunger Games.
He played Caesar Flickerman aka the Master of Ceremonies.
Fillion and Tucci took a picture together, and it's pretty perfect. In the photo, Fillion is holding a Katniss style bow, so of course he did what anyone would do and posted it to Instagram, along with a Hunger Games reference.
"I VOLUNTEER AS TRIBUTE! (I'm gonna Katniss the shit outta this!)," he captioned the photo.
Fillion isn't just a fanboy though, he actually has a legit relationship with Tucci. The actors are shooting the psychological thriller Nomis together, along with costars Minka Kelly, Alexandra Daddario, Sir Ben Kingsley, and Henry Cavill. The entire cast is currently together shooting in Winnipeg, Canada. And they're all posting to social media about the weather.
Apparently there's a crazy winter storm happening right now in Winnipeg.
Fillion posted a video of snow falling…up.
"Weird. In the Canada I remember, snow fell down- not up," he wrote.
Cavill is on the same page when it comes to how ridiculously cold it is outside, writing "Winnipeg brainfreeze #Nomis" on his Instagram pic.
And then there's this text from Daddario's very worried mom.
Nomis is set to film in Winnipeg until the end of March. We hope everyone's getting used to the weather!