Watch Nathan Chen land SIX quadruple jumps in one routine at the 2018 Winter Olympics without breaking a sweat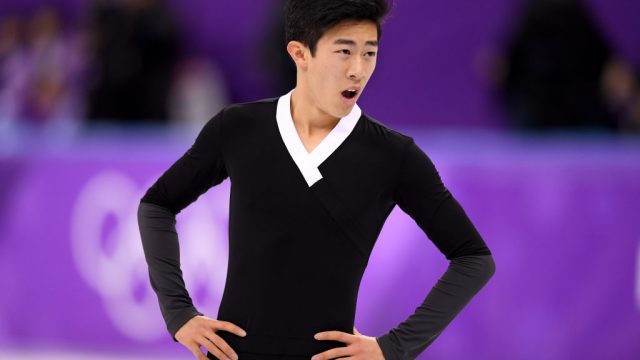 Sometimes it takes a disappointment to achieve something extraordinary. Nathan Chen is a member of the U.S. figure skating team, currently making us very proud at the 2018 Winter Olympics. Nathan Chen's name has been in the news a lot since the Winter Games began. We've wondered everything from who Nathan Chen is dating to what his net worth is. But right now, we just want to talk about how incredible he is at what he does.
Nathan Chen got off to a rocky start in PyeongChang. He gave two somewhat disappointing performances in his short programs that both ended in heartbreaking falls. But on Saturday, February 17th, he wowed the crowd with a free skate to remember. In an incredible rebound, Chen impressed the world with the talent we always knew he had. At just 18 years old, Nathan Chen landed six quadruple jumps in a single routine. A very first for the Winter Olympics!
The move would have been impressive even without the redemption arc, but that makes it just a tad bit sweeter. Chen's six-quad routine was also his last competitive appearance at this year's games, and we are so proud of him for going out with a bang. Chen earned a very understandable standing ovation and was even called "superhuman" by Tara Lipinski. And superhuman he is.
The routine earned Nathan Chen a score of 215.08.
When added to his short program score of 82.27, Chen finished with a total of 297.35 in the men's event. It wasn't enough to earn him a medal — he ended up coming in fifth. But still, what an exciting turn of events. And what a great legacy to leave behind in PeyongChang.
"I think honestly, putting down such a rough short program took all the pressure away from me," Chen told PEOPLE. "It was just me on the ice enjoying the crowd and soaking in the Olympic experience."
And we are so glad he got the chance to enjoy the experience. There is so much pressure during the Olympics. To be able to stop, enjoy the games, and still pull off something like landing six quads jumps in a single routine? Way to go, dude.
After falling so many times, Chen knew that the only approach that would work for him was to let go and let live.
"I already fell so many times," Chen told reporters. "I just decided to go out there and throw down and see what happens."
And if that isn't a motto for life, what even is? If at first you don't succeed, who really cares, go out and have fun anyway.
Congratulations to the Quad King! We are so stoked for him and for the entire U.S. team.