Natalie Portman still thinks about kissing this iconic actor, and it's really sweet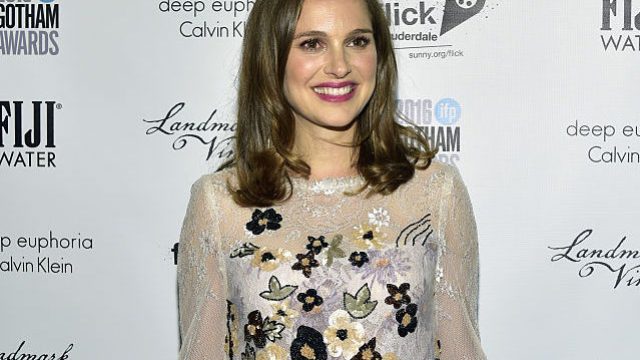 The cover of W Magazine's February issue features Natalie Portman and Ruth Negga almost smooching, and it's perfection. Well, one of the covers. The magazine is promoting a plethora of Golden Globe nominated actors to hype everyone up for award season, and we've been learning a lot about all who are involved.
Like, yesterday we learned that Emma Stone sucked her thumb until she was 11 years old and consequently had to wear braces for seven years. But she's totally fine with it and doesn't seem to have any thumb-sucking regrets.
And now we are learning that Natalie Portman has been thinking about kissing Patrick Swayze since she was a kid.
But seriously, do you blame her?
In a new video for W Magazine, the Jackie star opens up about her major crush.
"I definitely had a big Patrick Swayze crush as a kid... and maybe as an adult," Portman told W Magazine. "I wanted to kiss Patrick Swayze...definitely."
https://www.youtube.com/watch?v=K7ROXwtbrSg?feature=oembed
Yeah, we can all relate to that.
And her crush is clearly a longstanding one. Back in 2009, Portman told Movieline that her all-time favorite movie scene is in Dirty Dancing, starring a hunky, dreamy Swayze who had sadly recently passed away at the time of her interview.
"It's totally Dirty Dancing," Portman told Movieline. "And I'm so sad about Patrick Swayze."
But which scene is her favorite?
"Probably when she's with her Dad," Portman said. "It actually reminded me of the scene in [Love and Other Impossible Pursuits], you know? When she sort of confesses to trying to be who she is — 'I'm sorry if I disappointed you.' The whole thing!"
We feel you, Portman. We totally feel you.