Look out, Upside Down — Natalia Dyer is just as fierce, empowered, and determined as Nancy Wheeler on "Stranger Things"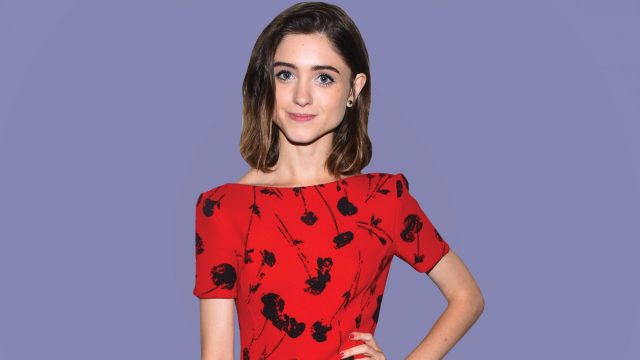 Natalia Dyer is all of us.
No, but really, because she once went to an extreme length to get out of #SPORTS, and don't even try to tell me that you haven't done that at one point or another. Where we might differ from Dyer, though, is that incident just so happens to be what put her on the acting path.
Dyer didn't have a dramatic epiphany in which she decided that she wanted to pursue acting. Rather, the pieces fell into place. "It's funny, it was one of those things that just kind of happened," she tells HelloGiggles. "I don't know if there was ever a moment that I decided that this is what I want to do."
But she, fortunately, had very supportive parents, who encouraged her interests. "I was in a sports camp in elementary school, and I really wasn't into it and I staged a sprained ankle," she says, and talk about relatable. "They put me into drama camp instead, because that's where they had a spot available for me. Something about it, I just really enjoyed it."
Her desire to act only continued to grow. "It just went from there," Dyer explains. "My mom saw that and she started looking for things around Nashville, and it just snowballed. But it was one of those things that felt very natural, and I had a lot of fun doing it. It really came from a passion thing. And now, here we are."
Dyer, 20, plays the determined Nancy Wheeler on Stranger Things, which returns to Netflix on Friday with Season 2. The sci-fi drama was a surprise hit, and was nominated for (and won!) a number of major awards — perhaps most notably Outstanding Performance by an Ensemble in a Drama Series at the 2017 Screen Actors Guild Awards.
Dyer is still taking it all in. Because really, it wasn't so long ago that she made her professional acting debut as the twin daughter to a pesky tabloid journalist in Hannah Montana: The Movie. "As amazing as the past year has been, and all the cool things that are going on, I still feel out of my element," she explains. "I still feel like I'm learning from all the jobs that I'm on."
A key lesson she's taken away from Stranger Things so far? Dyer has learned to speak up for herself.
"You learn how you work as an actor and how you work with other people and what you need. Not being scared to say, 'I think I need another take for that, or can we try this?' Just finding the confidence to be like, 'No, no, no, I know what feels right' and being able to speak up progressively about what feels right.
Really, that's great advice for anyone — but especially women and especially women in Hollywood, who are so often underrepresented. "As a woman, you have to speak up," Dyer says. "You feel like in order to be heard you have to be a little more aggressive. It's a fine balance, but I've been really fortunate to get to work with people like Winona [Ryder]."
Ryder, of course, plays Joyce Byers, a mother who desperately fought to bring her son, Will, back from The Upside Down in Stranger Things Season 1. "Watching her work is really nice and she also is very particular," Dyer continues. "She's very good at speaking up when she doesn't feel something is right or asking a lot of questions when things don't make sense."
And Ryder, thankfully, is far from the only strong woman who has inspired Dyer in her career.
Namely, Dyer feels similarly about writer-director Leah Meyerhoff, whom she worked with on 2014's I Believe in Unicorns. "She's a very strong-willed, persistent woman," the actress recalls. Not to mention, "I just did a film with a bunch of beautiful, wonderful women called Mountain Rest," she explains. "Watching them work and take ownership and really just own the set, it's beautiful to see that."
Given all that, Dyer's advice to young, aspiring actresses is to put it all out there where performances are concerned.
"Again, the thing — especially about film — is that it goes really fast and it's there forever so if you feel something's not right, it's a learning process but you don't want to have those regrets, she explains. "Regardless of what they do in the editing room or where they go with it, I want to feel like I gave what I wanted to give.
She continued: "Female characters can very easily become tropey or cliché and I think it's important to keep a keen eye about how characters come across, and come across to other women who see them. Just seeking out [projects] you feel portray a real complex human and bringing that into it."
That's something Dyer has worked on with Nancy on Stranger Things — even in the show's sci-fi, paranormal, and mystery scenarios.
And she says she's lucky to have the material that she does to work with. "[Creators, executive producers, and brothers Matt and Ross Duffer] take these characters and they write some really interesting storylines. They hand the girls some badass things to do and make everybody — the men too — have their sensitive moments and their dark moments and let everybody be human."
It helps that Dyer really connects with Nancy. And that she welcomes her character's imperfections. "One thing I really appreciate about her is she makes mistakes," Dyer says. "Obviously the whole Barb thing is a bit of a fallout for her. That whole situation with Steve and Barb and the party, maybe it's not pretty or flattering for Nancy's character but it's very human; it's a very teenager thing to do."
Moreover, "I really admire Nancy in a lot of ways, just her fearlessness about going for it and justice seeking, essentially. She's not a perfect girl. She's kind of figuring herself out, and I think that's nice. It feels very real despite all the sci-fi elements.
Last season, we saw Nancy coming into her confidence and fighting for what's right (cough, #JUSTICEFORBARB, cough). And you can bet your bottom Eggo that she'll continue down that road.
"She's definitely gained confidence and cares less about what people think and, of course, they're all still in school but that's not her biggest concern anymore. In the first season, she's very planned out and she's studying, studying, studying, and kind of a good girl, trying to fit in in certain ways and hanging out with the popular kids. She's really unsure of who she is and I think there's been a kind of progressive think ramp.
Dyer continues, "She's figuring out what actually matters, what's really important to her, whose opinions matter and whose don't. Seeing what's right and what's wrong. She has a bit of an almost journalistic nose, figuring things out and trying to get to the bottom of things. I think in this season, she's a lot less concerned with playing by the rules."
Nancy Wheeler, rulebreaker? Look out Upside Down. And Natalia Dyer, talented, empowered, and thoughtful actress? Look out Hollywood. This is only the beginning.