The "Nasty Woman" t-shirt you bought raised SO much money for Planned Parenthood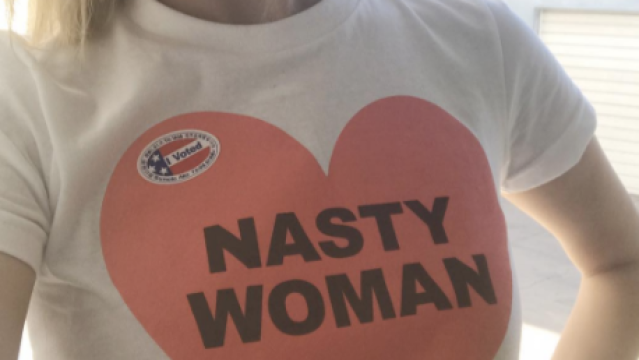 In the months leading up to the presidential election, you probably saw your fair share of t-shirts that said Nasty Woman on the front. You may have seen so many of them, in fact, that you couldn't help but order one for yourself when you learned the meaning behind it.
When Hillary Clinton and Donald Trump were in the middle of their final public debate before the election, Trump accused Clinton of being "such a nasty woman" — by interrupting her when she was in the middle of talking about the social security trust fund, no less. However, what kind of resilient women would we be if we didn't take that vulgar comment and turn it into something useful? And so the Nasty Woman t-shirt was born.
The simple white shirt with the Nasty Woman logo on the front took the Internet world by storm, and people were ordering them left and right. Etsy was even selling merchandise like keychains and buttons that had the same Nasty Woman logo on them. The best part is, Google Ghost, the t-shirt creators, started donating half the proceeds to go to Planned Parenthood. So far, they've raised $100,165! (And when they send the check to Planned Parenthood, it's submitted in Trump's name.)
The hashtags #nastywoman and #nastywomanchallenge made their way around Twitter at lightning speed as well, and people from all over the country came out to support Hillary, remind everyone to vote, and take a stand against Trump's long history of sexism. It all got so popular that a Nasty Woman website was born, and it led directly to Hillary Clinton's campaign website.
You can still buy your own Nasty Woman t-shirt from Google Ghost if you haven't gotten one yet. On their site, you can also purchase Nasty Woman planners, sweatshirts, mugs, and totes. We can't think of a better way to spend our money during the holiday season.