Literally everything is 60% off or more at Nasty Gal right now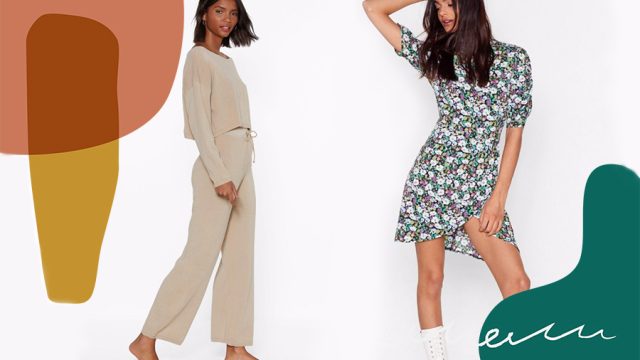 When it comes to unique styles, Nasty Gal takes the cake for affordable online finds. Shopping on the fashion retailer's site makes you feel like you're perusing the aisles of thrift stores in search of hidden gems, but the online experience makes it way easier. And in the wake of the coronavirus (COVID-19) pandemic, now's the perfect time to exchange that rack-sifting experience for scrolling through pages upon pages of unique finds.
The best part? Nasty Gal is offering 60% off of everything site-wide—even the super-slashed sale items—today only.
Everything is already discounted by 50% off site-wide, but you can enter the code "GET10" at checkout for an extra 10% off.
Along with tons of spring-ready items, Nasty Gal just racked up a bunch of new arrivals that are perfect additions to your work-from-home wardrobe. From loungewear sets to staple tees to satin pajamas, Nasty Gal has everything you need to stay stylish while staying home. On the other hand, treat yourself to a little spring closet refresh, giving yourself a piece (or many pieces) to look forward to wearing once you're allowed to leave your house.
Below, we rounded up our favorite finds at Nasty Gal for you to shop.
Shop work-from-home lounge sets at Nasty Gal:
Chances are, you're working from home in order to practice social distancing due to the coronavirus pandemic. During all this home office (aka couch) time, it's easy to fall into the habit of rolling out of bed (or staying in it, TBH) and then getting so caught up in the hustle of the day that the clock strikes 5 p.m. and you're still wearing your flannel pajamas. While this is totally okay, we feel more productive when we change out of our PJs and into something slightly more put-together.
Whether that's a different pair of sweats or even jeans (you go, girl), an outfit change can make all the difference in a productive day. Below, we rounded up some loungewear sets from Nasty Gal that effortlessly bridge the gap between comfy and cute. Swap your years-old, stained sweats for these stylish sets and watch your productivity spike.
1Get 'Em on Wide Hoodie and Pants Lounge Set
We're suckers for a cute hoodie, and this cropped, bell-sleeve option fits the bill. We'd even pair it with jeans for a casual look once it's safe to leave the house. The high-waisted, flared pants are calling our name, and the set comes in sage, oatmeal, and blush colorways.
2Take Me to Bed Ribbed Jogger Lounge Set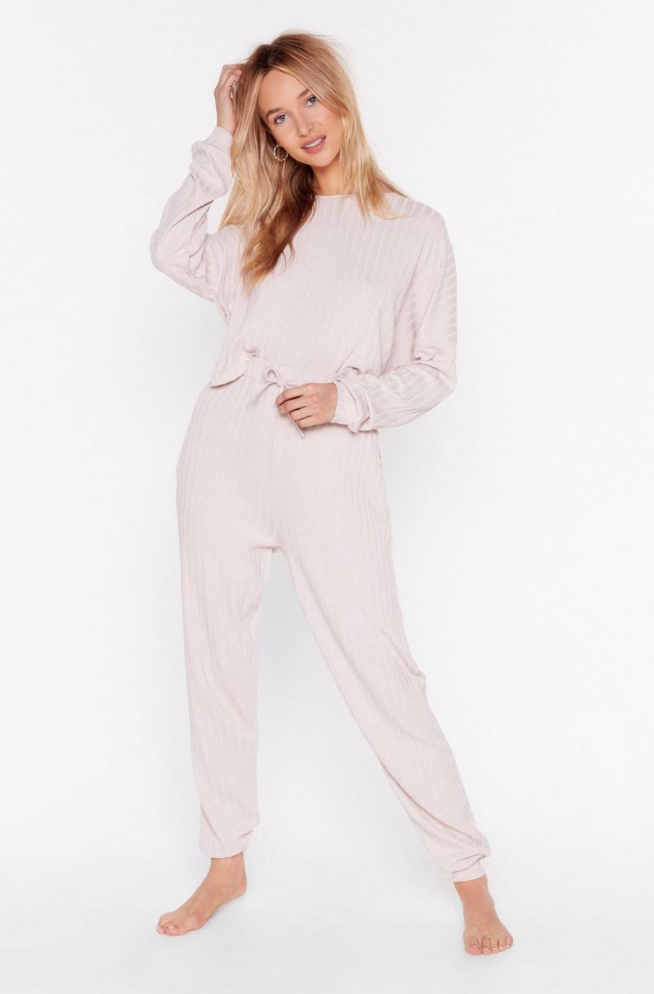 If joggers are more your style, opt for this high-waisted, drawstring pair with matching blush sweater. Both pieces come in a ribbed knit, instantly elevating the cozy look.
3Knit Happens Sweater and Shorts Set
For those of you with roommates who crank up the heat while you're both working from home, you need this shorts-and-sweater set that will keep you cooler (and looking cool, too).
4Recycled Rib Sweater + Culotte Lounge Set
Okay, these are basically pajamas disguised as a stylish loungewear set, but we're here for it. We have a feeling the flowy, cropped pants and loose-fitting sweater will feel lighter than air. Just try not to fall asleep in this comfy number.
5Slow Down Sweater and Joggers Lounge Set
Ooh la la. This sweater-and-joggers lounge set looks chinchilla-soft and ultra-flattering. Count us in.
Shop more stylish steals at Nasty Gal:
While we're all self-isolating to keep each other safe during the coronavirus pandemic, shopping for the future can keep us hopeful and optimistic. Nasty Gal has stylish pieces fit for every occasion: brunch, nights out, casual dinners with family, and date night—all things we're looking forward to jumping back into once it's safe to do so. Shop for the future to keep your spirits up and excited for those days ahead.
1Recycled Not Like Hem Plus Midi Dress
Does any color scream "spring" more than sky blue? This ribbed midi dress is the perfect weight for rising spring temperatures, and the ruffle hem adds a flirty touch.
2Shine Bright Tonight Plus Satin Shirt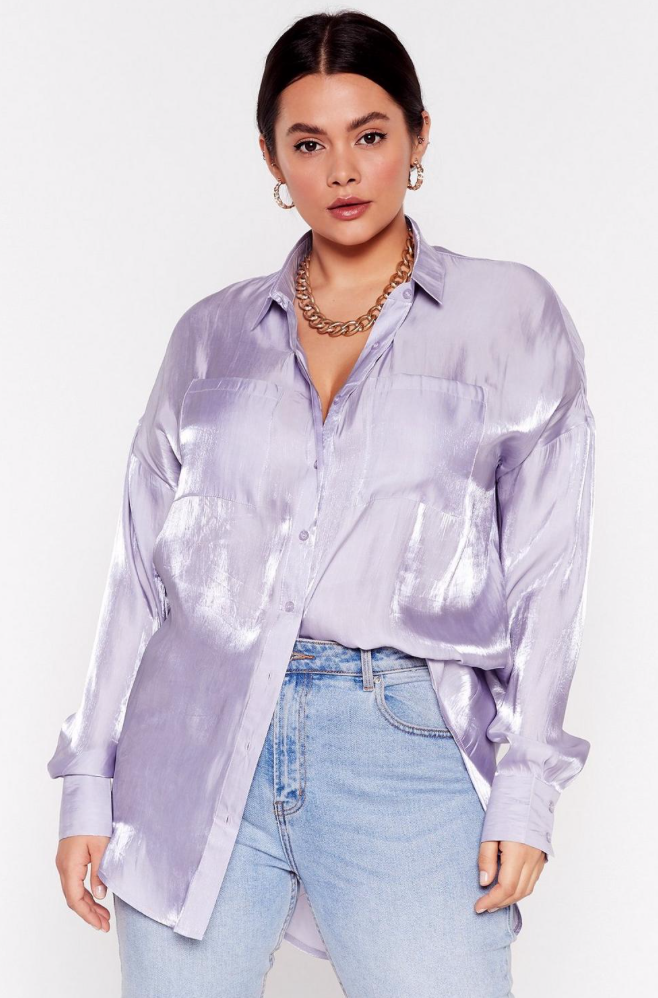 $28.80 (orig. $64)
Shop it
Nasty Gal
We're drooling over this lavender, metallic-finish button-down. We can already see ourselves wearing it from the office to happy hour once we're back in our routines.
3Stitch It to Me Belted Denim Jacket
Can you say "new spring uniform"? The moment we're allowed to resume our social activities, we're wearing this baby while running errands, walking through farmer's markets, and hanging on rooftops with friends.
4Bloom to Grow Floral Mini Dress
Ruched sleeves, a high neckline, and a wrap skirt—all in a super-springy floral print—make this dress a clear winner in our eyes. Pair it with white sneakers during the day and a denim jacket when the sun goes down.
5We Mean Business Double Breasted Longline Blazer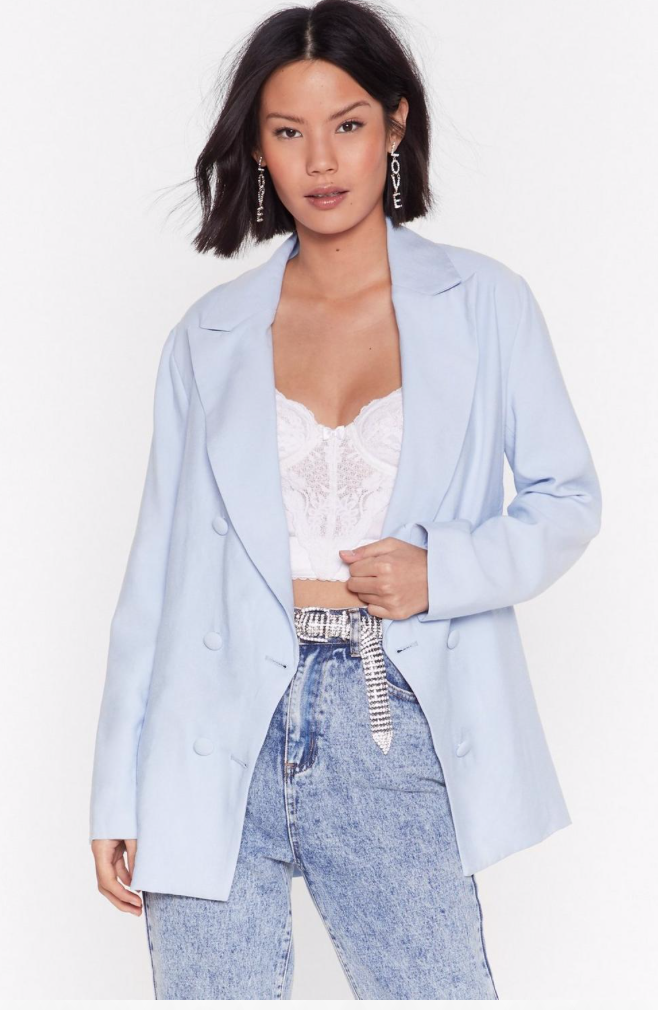 $40.50 (orig. $90)
Shop it
Nasty Gal
We spy our new go-to blazer, and it's the stuff of pastel dreams. Wear this pretty number and feel like Taylor Swift in her music video for "Me!" dancing among fellow pastel-blazer-clad babes.
6The Complete Package Denim Boilersuit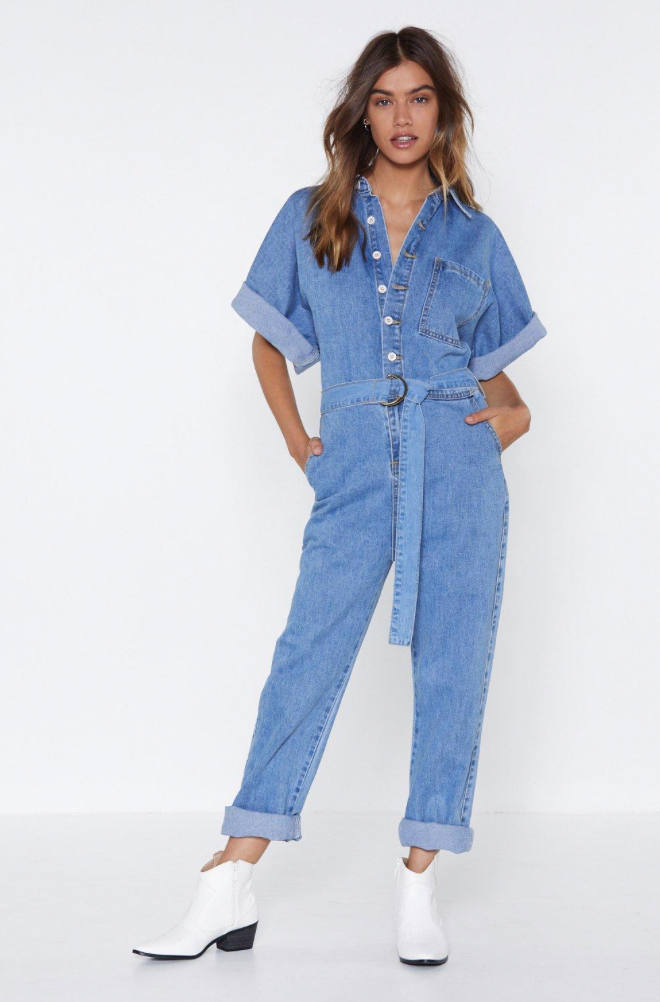 $47.25 (orig. $105)
Shop it
Nasty Gal
Take your boilersuit game to an unmatched level with this effortlessly cool denim look.
Shop the entire Nasty Gal sale here.